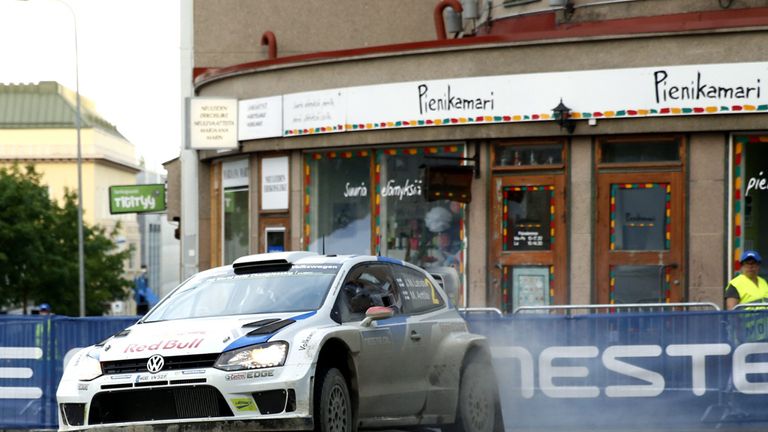 Jari-Matti Latvala has won Rally Finland in front of his home fans after claiming his 14th stage win of the event.
Volkswagen Polo team-mate and world champion Sebastien Ogier had to settle for second after going into the final day just 3.4 seconds behind, eventually finishing a further 0.2 seconds adrift.
Great Britain's Kris Meeke remained in control of third place, after starting the final morning nearly 50 seconds ahead of his nearest rival. His podium third place was one of the best results of the Citroen DS3 driver's career.
But Irishman Craig Breen had to withdraw on the fourth and final day after injuring his back during Sunday morning's first stage whilst in ninth place overall.
It was Latvala's third WRC victory of the season and his second on the '1000 Lakes Rally', as it used to be known. It also stretches Volkswagen's record-breaking run of WRC wins to 12.
Late on Saturday afternoon, having taken four out of five stages that morning, Latvala had hit a large pothole and suffered a brake problem, conceding his half a minute advantage and allowing Ogier to step up his chase for victory.
But in Sunday's first stage, 29-year-old Latvala found an extra turn of speed to win his 14th stage of the rally, beating Ogier by 1.6 seconds.
The Frenchman responded by winning the following stage, leaving just 3.7 seconds between himself and the Finn as they went into the final stage, which Ogier also won.
Latvala, however, who had led Rally Finland from day one, set the second best time through the Power Stage to claim overall victory, Ogier nevertheless protecting his overall Championship lead.
"It was a really, really hard job to win this rally," Latvala told wrc.com. "I had a fantastic feeling from the beginning, but then our problems nearly cost us the victory.
"I fought back so hard, it was like fighting a war! It was a brilliant performance. I'm really, really happy!"
Latvala, who won the WRC rallies in Sweden and Argentina, has cut Ogier's lead in this year's championship to 44 points with five rallies remaining.
Breen was injured during a heavy landing on one jump in Sunday's first stage in his Ford Fiesta RS WRC car. He completed it – and was 11th quickest – but had to pull up at the finish in severe pain.
"I tried to go flat over the famous jumps and now I'm flat on my back," he said. "I'm disappointed. I wanted to finish this rally and it's not going to happen."
Breen's co-driver Scott Martin added: "Craig has really hurt his back. I think we jumped too high and the landing was very hard. He can move everything OK but can't drive at the moment.
"We got quicker every stage, such an important thing [here]. It's been really fantastic and we have really enjoyed it. It's a shame this has happened but we put some real good times in. The main thing is that he's OK."
Breen made his debut in a World Rally Car back in February on Rally Sweden.