Final six settled
The six riders who will contest this year's British Superbike Championship were decided after an emotionally-charged weekend at Cadwell Park. James Booth reports.
Last Updated: 06/09/11 6:01pm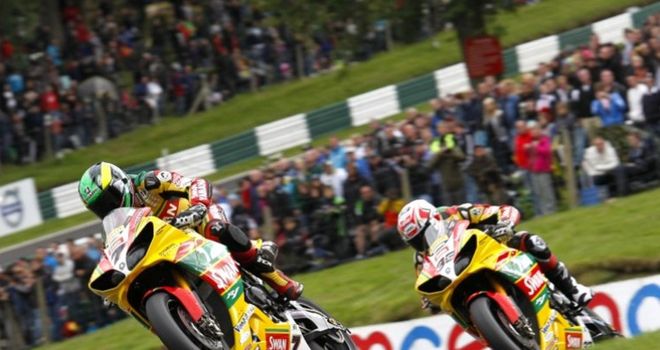 The British Superbike Championship moved up a gear over the August Bank Holiday weekend as the deciding three places that make up the 'Showdown' final six were settled over three action-packed races at the Cadwell Park circuit in Lincolnshire.
However, the weekend will be remembered mainly for a tragic accident that served to remind us all that motorcycle racing is a very dangerous sport indeed. Not long into the Superstock 600 race on the main 'race' Monday, a number of bikes came together at the foot of the famous Mountain, with the resulting accident in which 18-year-old Ben Gautrey tragically lost his life shaking the paddock.
The Superstock 600 class is one of several supporting series to the full BSB tournament. The bikes are effectively off-the-shelf 600cc sports bikes and it's via this class that many of tomorrow's stars are brought through the ranks. Ben was one such future star whose popularity is now echoed in a tribute page to him on Facebook. It is a tragic loss and our thoughts are with his family and friends.
Accidents in motorcycle racing come with the territory but it is extremely rare that a fatality occurs. John Hopkins was absent from the weekend as he recovers in the USA from a broken hand sustained in a recent MotoGP crash at Brno. Hopkins opted to miss out on potential podium points to give himself a better chance of a full recovery in time for the first of the final three deciding rounds at Donington Park later this month. However, BSB star Stuart Easton, a rider almost certain to have made the top six, returned to the paddock at Cadwell to offer support to his MSS Colchester Kawasaki team-mates. It was earlier in the year at the North West 200 in Ireland that Easton suffered horrific injuries in a crash involving team-mate Gary Mason. Easton was upbeat despite his obvious condition; he will continue to receive treatment for many months to come but nevertheless remains keen to get back on a bike.
"I don't feel great but I feel normal considering. It's been three months of recovering and hopefully I'll be OK by November. There's been a lot of pain but, no pain, no gain. I'm hoping to be back on a bike before the year's out or early next year." Easton said.
Steve Brogan was back on the grid, however, riding for Jentins Honda. His last outing at Snetterton in Norfolk back in early July ended abruptly and spectacularly when he and Simon Andrews collided at 170mph at the end of the start/finish straight.
Seven riders had the chance to claim one of the last three positions at the start of the weekend and the narrow and twisty Cadwell Park track produced typically spectacular racing. The Bank Holiday meeting was a triple-header event, with Sunday seeing a re-run of the second Oulton Park race and it was immediately apparent that those final three places were going to be hard-fought over. Josh Brookes found himself on the wrong side of the adjudicators having taken Michael Rutter out in an aggressive move that left Rutter nursing broken ribs and effectively abandoning his chance of being competitive for the rest of the weekend. Gary Mason struggled to find his recent form, unlike Jon Kirkham who, with the help of John Hopkins' crew chief, found a bike set-up that saw him remain in contention right through to the final race. There was also a strong showing from local lad Peter Hickman, who put on a spectacular show on the Tyco Honda to achieve his first front-row qualifying position of the year.
But it was the Swan Yamahas that made Cadwell their weekend. Michael Laverty stole the win from team-mate Tommy Hill in Sunday's re-run race only to see Hill take the double, winning both of Monday's outings in typically aggressive style. Relentless Suzuki's Brookes was soon back to his best, putting it on the podium at the final race, while Shane Byrne was never far from the front, the HM Plant Honda rider mixing it up in typical style. The action ran right through to the end as Byrne's team-mate, three-times champion Ryuichi Kiyonari, secured his final-six place showing; rule him out at your peril.
So here we have it: the final top six. Their scores are now reset to 500 points each and podium credits are added:
Tommy Hill, Swan Yamaha - 529
Shane Byrne, HM Plant Honda - 522
John Hopkins, Samsung Crescent Suzuki - 518
Michael Laverty, Swan Yamaha - 510
Josh Brookes, Relentless Suzuki - 509
Ryuichi Kiyonari, HM Plant Honda - 508
Cadwell Park 2011 will be a weekend remembered for its emotions. We now move into the final three rounds and one thing is certain, it will be incredibly exciting. Let the showdown begin.