MotoGP: Dani Pedrosa wins in Jerez as Spanish riders lock out the podium
Dani Pedrosa led home Honda team-mate Marc Marquez in Jerez for his first victory of the MotoGP season.
Last Updated: 05/05/13 5:06pm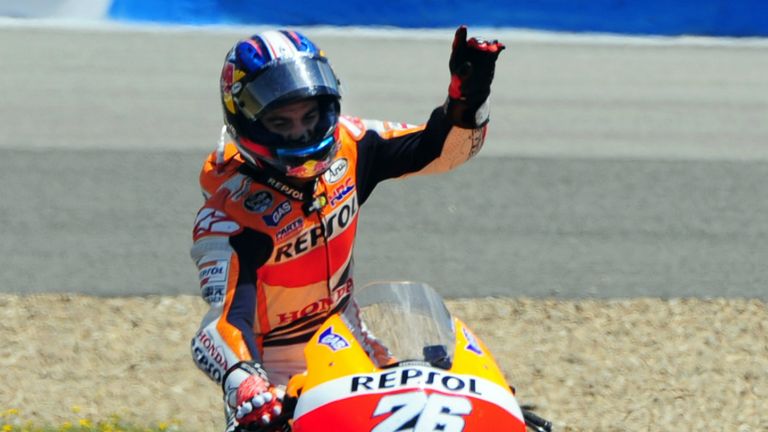 Pedrosa went past pole sitter Jorge Lorenzo with an inside move on lap six and went on to complete victory in the 27-lap race while the drama unfolded behind him.
Yamaha's Lorenzo remained in second until the final corner when Marquez squeezed his way past after the riders bumped.
Lorenzo's Yamaha team-mate Valentino Rossi was the first non-Spaniard across the line in fourth, ahead of British rider Cal Crutchlow (Tech 3 Yamaha).
Alvaro Bautista was sixth ahead of Nicky Hayden, Andrea Dovizioso and Aleix
Espargaro, while Briton Bradley Smith completed the top 10.
Marquez, the 20-year-old who claimed his maiden MotoGP victory at the previous round in Austin, now leads Pedrosa by three points and defending champion Lorenzo by four in the overall standings.
"I'm very tired. It's been a race right to the limits chasing Jorge and Dani," Marquez said. "I tried to give 100 per cent and in the last lap I gave it all."
Marquez tried to speak to Lorenzo in the paddock after the race but the furious champion snubbed him. Later, on the podium, the Yamaha rider congratulated Pedrosa, patting him on the back, but pointedly ignored the youngster.
"I went to apologise to Jorge, but, well, I think it has been one of things that happens in a race," Marquez said. "The positive thing is neither of us fell. It has been a great end to the race for the fans."
Lorenzo was struggling to keep his feelings to himself. "I prefer not to talk about what happened on the last curve because I am still very angry," he said. "What I would say would be very negative.
"Our race has been very consistent with a lot of focus. With the bike and the tyres we had, it was a very good race. We have points and a podium finish."
Pedrosa said: "Jorge started fast, and I just tried to keep up with him at first.
"Later I saw I had better pace and after I passed him I just focused on protecting my tires and was able to manage my lead."