Surrey Storm head coach Tania Hoffman ready for Hertfordshire Mavericks test
Netball London Live 2017 will be shown on Sky Sports Mix from 6pm
By Raz Mirza
Last Updated: 11/03/17 7:19pm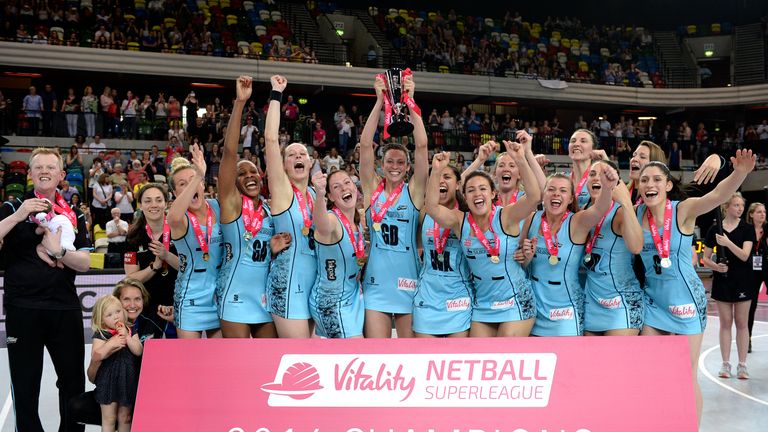 Surrey Storm head coach Tania Hoffman is ready for the experience of London's Copper Box Arena when they take on Hertfordshire Mavericks this Saturday night.
Hoffman will lead Storm in the Olympic Park for the first time after coming on board at the end of 2016, but she remains positive that they can pursue a third successive title in a competitive Vitality Superleague.
The Storm will be hoping to make it four straight wins against a Mavericks side who will be led by Robyn Broughton and assistant Kat Ratnapala, who is well known to Hoffman from their days in the ANZ Championship.
"I'm looking forward to the game and looking forward to experiencing the Copper Box. I believe it's a testing atmosphere and the girls are really looking forward to it and quite a few of them have experienced it before, so there will be a lot of hype," she told Sky Sports in an exclusive interview.
"No game is easy and every week all the teams are getting better. That makes training interesting in terms of what you need to do, being better prepared for the team you're going to face the following week.
"It's going to be a tight game against the Mavericks and I'm looking forward to the atmosphere."
Hoffman believes her players have shown great spirit in training and they are now well prepared for the long season ahead.
"The players were already in place when I arrived at Storm, so really it was all about developing a really good team culture," said Hoffman.
"Training has gone really well. We sat down and looked at a mission statement for the season, goals, and finding a team unity on and off the court.
"I think the sign of a good team is that I'm not able to pick out specific names because everyone has impressed me. I didn't know them before I arrived, but the team has united very well.
"I've been getting used to the environment here, which is different, and I suppose the expectations from me is a little bit different as well."
Hoffman worked as assistant coach for New Zealand outfit Central Pulse, and since her move to the Vitality Superleague she's been impressed with the work ethic.
"The money is not here to pay the athletes more than what is paid in the southern hemisphere, but I'm really impressed that the work ethic is no different. These girls are working full-time, studying full-time, and then travelling great distances to get to training," added the New Zealander.
"I think for England Netball to move forward, they have to turn professional. It's shown by results for the England Netball team that if they had the money to put into full-time athletes, I think they will strengthen over the likes of Australia and New Zealand.
You can follow this huge Vitality Superleague clash on Sky Sports Mix from 5.45pm on Saturday and don't forget to catch all the Vitality Superleague action across our Sky Sports platforms. Follow us @SkyNetball
The regular season league home and away matches run from February to June, culminating in semi-finals and a Grand Final to determine the league champion.