AFC South - Guide to the off-season
We take a look at how each team is preparing for the draft
By Graeme Mair
Last Updated: 15/03/13 9:29am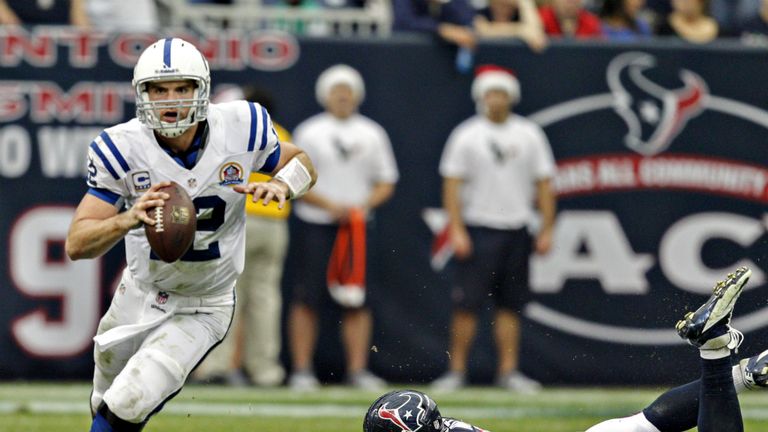 The draft takes place at Radio City Music Hall in New York from April 25-27 and prior to that there are lots of decisions to be made in front offices around the league.
Ahead of the draft, we're taking a division-by-division look at how things are shaping up, this time it's the turn of the AFC South.
Houston Texans
Last season: Secured a second straight division title with a 12-4 record, the best in franchise history. Won their play-off opener, at home to Cincinnati, for the second year in a row but again went down on the road in the divisional round, this time at New England.
Coaching changes: Gary Kubiak's staff remains intact for what will be his eighth year as head coach.
Strategy: The Texans have allowed linebacker Connor Barwin and safety Glover Quin to leave as free agents. Barwin's exit means adding linebacker depth is a priority but, given their limited salary cap space, this will probably have to be done via the draft. Improved support opposite star wide receiver Andre Johnson would also be welcome, something Houston have searched for unsuccessfully for years, while the right side of the offensive line struggled throughout most of last season.
Draft: Still in possession of all seven picks, starting with the 27th overall.
Indianapolis Colts
Last season: Despite first-year head coach Chuck Pagano having to take a leave of absence for leukaemia treatment for part of the season, the Colts still produced the biggest turnaround in the league. Rookie quarterback Andrew Luck led them to an 11-5 record, second place in the division and a play-off wildcard. They lost their post-season opener to eventual Super Bowl champions Baltimore.
Coaching changes: The Colts are victims of their own success with offensive co-ordinator Bruce Arians leaving for the head coaching job in Arizona and vice president of football operations Tom Telesco taking charge of San Diego's front office. Pep Hamilton, who was Andrew Luck's quarterback coach at Stanford, has been hired as Arians' replacement, while Jimmy Raye - who lost out to Telesco for the San Diego gig - is the new vice president of football operations. Tom McMahon is the takes over as special teams co-ordinator after Marwan Maalouf departed by mutual consent.
Strategy: The rebuilding process that began last year will move on apace this off-season. After 11 years and more than 100 sacks, Dwight Freeney has been allowed to leave because he is unsuited to Pagano's 3-4 defence. Cornerback Darius Butler has been re-signed and will form part of a secondary bolstered by the arrival of safety LaRon Landry, a former sixth overall pick who spent last season with New York Jets, and cornerback Greg Toler from Arizona. Gosder Cherilus is another former first-round draft selection to be acquired via free agency in the hope of improving the offensive line's ability to protect Luck. Wide receiver Donnie Avery, third on the depth chart last season, will need to be replaced after he joined Kansas City. Unusually, the Colts used their franchise tag on a special teamer - punter Pat McAfee.
Draft: Only five picks in total having given up their second-round selection to Miami in the Vontae Davis trade and their fifth rounder to San Francisco in order to move up and take TY Hilton in the third round last year.
Tennessee Titans
Last season: Stumbled to third place in the division with a 6-10 record. Lost four of their first five games and never recovered, the season finally being doomed by a three-game losing streak following their bye in week 11.
Coaching changes: Head coach Mike Munchak will carry on into his third season. Gregg Williams has been brought in as a senior assistant to defensive co-ordinator Jerry Gray after he was reinstated by the NFL following a ban for his role in the New Orleans bounty scandal. Dowell Loggains has been confirmed as offensive co-ordinator on a permanent basis after performing the role for the final five games of last season after Chris Palmer was sacked.
Strategy: Munchak and his chosen quarterback Jake Locker - the eighth overall pick in 2011 - are entering the last-chance saloon and need a play-off return next season or time will be up for both in Nashville. The inconsistent, injury-prone Locker is one of several problems Munchak must solve. The secondary was, at times, woeful against the pass last season when half of the Titans losses came by 21 points or more, including a 55-7 hammering at Lambeau Field in the penultimate week. Veteran George Wilson has been signed to replace Jordan Babineaux and play alongside Michael Griffin in the safeties, while a cornerback should be on the radar when they pick at 10 in the first round of the draft. Guard Steve Hutchinson has opted to retire but the offensive line needed surgery in any case due to their suspect run blocking. Tight end Jared Cook, who never fully lived up to his potential, has left for St Louis via free agency with Delanie Walker brought in from San Francisco as his replacement.
Draft: Six picks in total starting with the 10th overall. They are missing their sixth-round selection, which ended up in Arizona via Minnesota, after using it to move up and take Scott Solomon in the seventh round last year.
Jacksonville Jaguars
Last season: Finished bottom of the division with a 2-14 record, the equal worst in the league.
Coaching changes: Head coach Mike Mularkey was sacked after a single-season at the helm and replaced by Gus Bradley, who built his reputation during four years as defensive co-ordinator in Seattle. Owner Shahid Khan also made a change at the top of his front office, bringing in Dave Caldwell, formerly Atlanta's director of player personnel, as general manager after Gene Smith paid the price for Jacksonville's poor results.
Strategy: The place to start is at quarterback where the two-year Blaine Gabbert experiment should be brought to a swift conclusion. With Kansas City having signed Alex Smith, Jacksonville know West Virginia quarterback Geno Smith will be available to them with the second pick of the draft should they so desire. Smith is not regarded as the type of "can't miss" prospect that Andrew Luck and Robert Griffin III were last year and therefore the alternative of trading for Gabbert's replacement - Seattle's Matt Flynn is the obvious candidate - will be given due consideration. While whoever is calling the signals at least has some offensive talent to work with, the defence - which ranked 30th in the NFL last season and had no pass rush to speak of - needs a major overhaul in most positions. Cornerback Derek Cox has gone to San Diego as a free agent, while Aaron Ross and safety Dawan Landry have both been cut.
Draft: They pick second overall after losing out to Kansas City on the strength of schedule tie-breaker. That will be the first of a full house of seven selections - one in each round.