NFL Preview: San Diego Chargers v Kansas City Chiefs, live on Sky Sports 2HD
The visit of the lowly Chiefs is just what the San Diego Chargers need for Thursday's live Sky Sports clash.
Last Updated: 31/10/12 1:44pm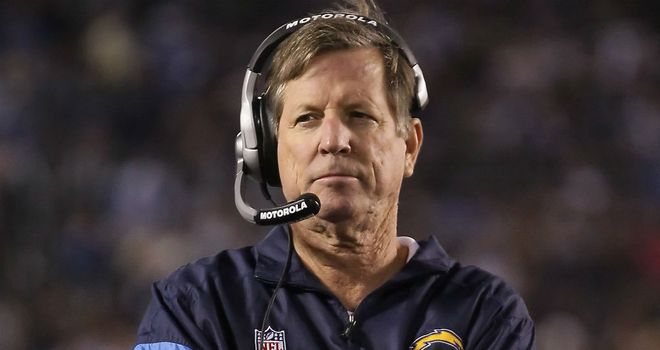 The two teams could not be in more trouble, with the 3-4 Chargers having slipped a game behind Denver in the division after three straight defeats without scoring a touchdown in the last six quarters of action.
Kansas City are even worse off, coming into the game at 1-6 after four losses in a row and with a remarkable record of being the first team since 1940 to have played seven games without once taking the lead in regulation.
The one win on their record so far came with an overtime success against the hapless New Orleans Saints, and it is no surprise with coach Romeo Crennel chopping and changing quarterbacks and an offence that leads the league in the unwanted category of turnovers with 25 already.
Matt Cassel will return as the starting QB for the Chiefs on Thursday night, as he comes in to replace his replacement, Brady Quinn, who suffered a concussion last Sunday against Oakland.
Back-up plan
The former Tom Brady back-up in New England has failed to sparkle since his six-year, $60m move to Arrowhead three years ago, but is looking to prove himself to Crennel after getting another opportunity under centre.
"I'm excited to be playing," said Cassel. "As I said last week, my approach doesn't change. I'm going to go out, I'm going to work hard. It's unfortunate for Brady, but at the same time, we have to move forward. It's a short week. Preparation has to be put in."
Cassel knows he'll have to improve on his ball security on Thursday, after personally committing 16 turnovers by himself this season - and two last Sunday when he came on for the injured Quinn.
The ground game will be an interesting battle, with the Chiefs ranking third in the league in yards gained and the Chargers second in yards allowed at just 80 per game - so the performance of Jamaal Charles could be the key to this one.
He only had five carries against Oakland leading to the finger being pointed at Chiefs offensive coordinator Brain Daboll, so you can be sure he will get a hefty workload on Thursday.
Cassel had three turnovers when the two teams met in week four, with the Chargers emerging as 37-20 winners with one of those interceptions being returned for a touchdown by Donald Butler.
Chargers
Chargers head coach Norv Turner is yet again under pressure as his team struggles to get their act together - with Sunday's bizarre 7-6 defeat against lowly Cleveland leading to renewed calls from fans for the coach to be sacked.
Turner's San Diego teams traditionally get stronger as the season goes on, but the nature of recent collapses against New Orleans and in particular Denver has put fans and team officials on edge.
San Diego blew a 10-point lead against the Saints but even more troubling was their loss at home to the Broncos, were they somehow let a 24-0 lead at half-time turn into a 35-24 loss at the hands of Peyton Manning.
"You're coaching on a week-to-week basis," Turner said when questioned about the mounting pressure on his shoulders. "I'm coaching to do the best job I can to get our team ready to play Kansas City. All those other conversations, they're going to take place. You know they're going to take place."
Running back Ryan Mathews is getting back to full health after injuries early in the season, but quarterback Philip Rivers needs to get more out of receivers such as Malcolm Floyd and Robert Meachem to get their traditionally high-flying offence back on track.