Arizona Cardinals and Seattle Seahawks meet in Thursday's NFL showdown
Defense will be the name of the game for Thursday's Clash in Arizona, live on Sky Sports 1HD.
By Jesse Beller
Last Updated: 17/10/13 9:20am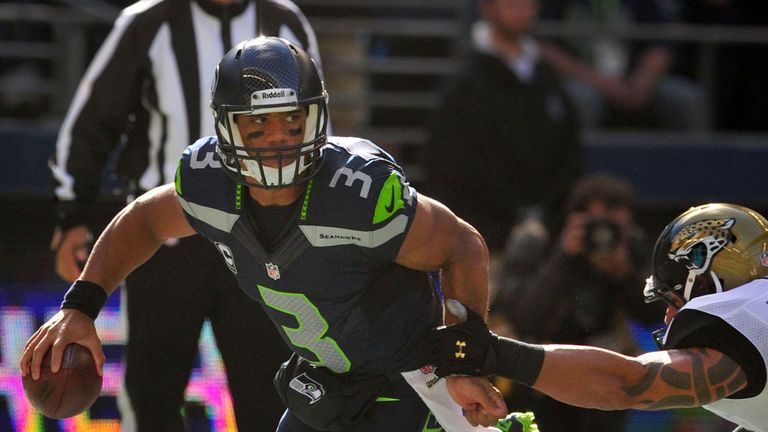 We know that Peyton Manning and the Broncos know how to score. We know the Chiefs have an excellent defense and are challenging the idea that you cannot totally recreate a team in a different city (2011 'Niners meet your long-lost twin). We know that Chip Kelly's offense does work in the NFL (27.7 points per game/449.8 yards per game).
We also know very little. This time last year the Colts were 2-2 and had just lost by 26 to Mark Sanchez. As you probably know, they won nine of their next eleven to make the play-offs. Last year every team in the AFC East was 3-3; 11 weeks later, the Patriots were 12-4 and everyone else was below .500. Oh, and the Redskins, they were just starting a three-game losing streak that preceded their charge to the NFC East Crown. There is a lot of football left.
We know a lot, but we also know nothing at all.
The Season So Far
This brings us to this week's Thursday Night participants - the Arizona Cardinals and the Seattle Seahawks. Seattle are good - probably - they are 5 -1 with a signature win over the 49ers and their close-fought loss to the Colts is the only blemish on their record. The Seahawks entered the season as Super Bowl contenders, and they remain in that group thanks to a dominant defense (-19.7% - second in Football Outsider's Defensive Efficiency Ratings1) and a strong running game. But this team also lost to the Colts, only beat the Texans because of an utter meltdown by Matt Schaub, and struggled to a 20-13 win at home against the Titans last weekend. The Seahawks are a pretty shaky 5-1, and while they still preside amongst the NFC favourites (along with New Orleans, Green Bay, and San Francisco) they have a lot of work left to do.
Then we have the Arizona Cardinals. In 2012 thanks to a combination of a truly terrible offensive line and an offensive quarterback situation (anytime John Skelton or Ryan Lindley is your starting quarterback, you are in serious trouble2), the Cardinals went 5-11 and had head coach Ken Whisenhunt fired. In an interesting case of changing expectations, Whisenhunt would probably still be leading this team if he had not started 4-0 and beaten the Patriots at Foxborough, creating the unrealistic idea that his team was actually good - not the likely 5-11, quarterback-less team it was expected to be pre-season.
Arizona's inept offense masked the fact that their defense was one of the league's best. Calais Campbell was his usual under-appreciated dominant self, Patrick Peterson was one of the league's best corners, and linebacker Daryl Washington was an absolute terror. The basic numbers were not great for the Cardinals (22.3 points per game) but that number is skewed by the absurdly large number of possessions the Cards' faced and the field position they were defending3
With Whisenhunt gone, the Cardinals brought in reigning NFL Coach of the Year Bruce Arians4, traded for Carson Palmer from the Raiders and drafted Jonathan Cooper to shore up their offensive line. The Cardinals still have Larry Fitzgerald and Michael Floyd on the outside so all they really need is average performance from behind center and the points will flow.
Despite Arians' new offense and the addition of Palmer5, the Cardinals still have a terrible offense, though at least now it is not hurting their fantastic defense. Somehow, with an awful offense, their top draft pick being out for the year (Cooper broke his leg, which is an historically awful injury for offensive lineman), Arians refusing to give carries to rookie Andre Ellington despite his seven yards per carry, and missing one of their best defensive players (Washington) for the first four games due to suspension, the team sits at 3-3 going into Thursday's match-up.
Looking Forward
The Cardinals are almost assuredly not going to be a .500 team - including this week they play the Seahawks twice, 'Niners, Colts, Texans, Eagles, Rams (who they already lost to) and Titans (who should have Jake Locker back). They are a fundamentally flawed team, and we already know their defense cannot completely cover their offense's many faults over the course of a season. The goal for the Cardinals should not be the play-offs, it just is not happening, but the top ten in the draft. Palmer is just a placeholder, and in a draft that could feature up to eight first round worthy quarterbacks, getting a top ten pick and one of them is essential.
The Seahawks, on the other hand, are going Super Bowl or bust. At 5-1 they are right on track (including the ultra-important division win over the 'Niners) but have been all over the map quality wise. With their un-matched home-field advantage (undefeated at CenturyLink Field since 2011), it is essential that Seattle secure home-field advantage throughout the playoffs. This means fending of New Orleans and San Francisco (they play both in consecutive weeks), which likely will require winning at least 13 games. This starts the easy portion of the Seahawks' schedule, and they cannot afford to slip up by looking too far ahead.
The Pick
Thursday's match-up should be an easy one for the Seahawks, as the secondary combination of Richard Sherman, Brandon Browner and Earl Thomas should limit Fitzgerald and Floyd enough that Seattle's rotating cast of defensive lineman can obliterate Palmer. On the other side of the field it will be an interesting test for Russell Wilson, whose excellent rushing numbers obscure his subpar passing this year. Arizona has a tough defense, and though Calais Campbell will be limited (if he plays at all), Patrick Peterson, Tyrann Mathieu and Washington should pose a formidable task for Wilson and his backfield co-star Marshawn Lynch.
This game probably won't be a repeat of last year's 58-0 Seattle beat down, but the Seahawks should have no trouble using their physical style to bully an Arizona team on short rest and bruised after facing the 'Niners.
We know the Cardinals and Seahawks can play defense. We know Marshawn Lynch can run the ball. After that - we know very little.
The Seahawks are probably very good, the Cardinals, probably not. It is Week 7 and there is plenty left to learn.
The Pick: Seahawks -6.5
---
1. http://www.footballoutsiders.com/stats/teamdef - Its not exactly suprising to see the Seahawks up top , but Carolina? Rather impressive considering the cap hits they have taken thanks to busts such as Jon Beason.↩
2. Spare a moment for Larry Fitzgerald's career numbers.↩
3. Never underestimate the power of a truly terrible offense.↩
4. Coach of The Year is one of the weaker post-season awards and essentially just goes to the team who gain the most wins from the year before. In the Colts case, the massive surge in wins was more based on the drafting of Andrew Luck and incredible luck in close games than anything Arians did.↩
5. One of the all time not quite bad enough to get rid of but not quite good enough to ever be happy quarterbacks - it really seems the Cardinals want to kill Larry Fitzgerald.↩