NFL: Division titles and play-off places on the line in penultimate week of regular season
New Orleans Saints and New England Patriots have the chance to clinch division titles live on Sky Sports on Sunday.
Last Updated: 23/12/13 6:16pm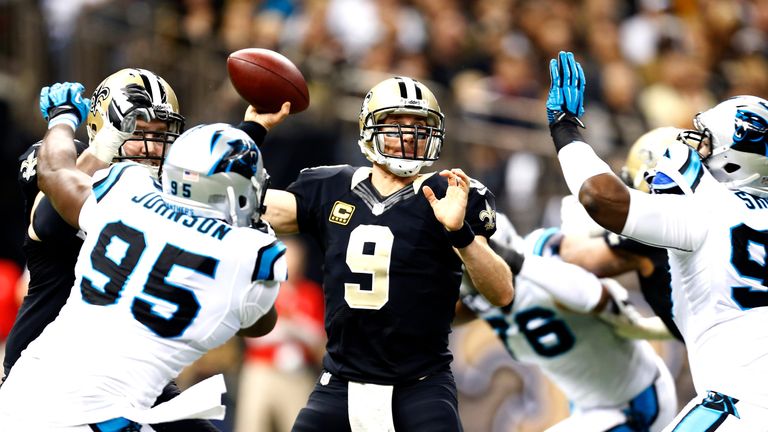 Both teams bring 10-4 records to Bank of America Stadium for the penultimate week of the regular season and a win would be enough for the Saints to earn their third division crown in five years - and second play-off seed in the NFC.
That is because New Orleans would hold the tie-breaker having already beaten Carolina - snapping their rivals' eight-game winning streak in the process - 31-13 at home in week 14 thanks to a four-touchdown display from Drew Brees.
But the Panthers will be encouraged that the Saints are only 3-4 on the road this season, including a 27-16 reverse at St Louis last Sunday.
Also in the early tranche of kick-offs (5.30pm GMT), Cincinnati Bengals have another opportunity to secure the AFC North title when they welcome Minnesota Vikings to Paul Brown Stadium.
The 9-5 Bengals stumbled to a 30-20 defeat at Pittsburgh Steelers last week but have not lost at home this season, while the Vikings (4-9-1) have long since written off the season and could be without star running back Adrian Peterson who is questionable with a foot injury.
Scenarios
Even if Cincinnati slip up again, it would still take a Baltimore Ravens' (8-6) win against New England Patriots (10-4) later on Sunday to take the AFC North race into the final week of the season.
The Patriots visit M&T Bank Stadium in the 9pm live match on Sky Sports needing victory to be sure of their fifth straight AFC East title.
Denver Broncos (11-3) are another team who could claim a division title, in their case the AFC West. They must take care of business at the league-worst 2-12 Houston Texans and hope Kansas City Chiefs (11-3) lose at home to the AFC South-champion Indianapolis Colts (9-5).
Indeed, if a Denver win is complemented by defeats for the Chiefs and Patriots, then Peyton Manning's Broncos would secure top seed in the AFC.
Miami Dolphins (8-6) travel to Buffalo Bills (5-9) looking for a fourth straight win in order to take their bid for an AFC wildcard into the final week of the season, while San Diego Chargers (7-7) need to see off Oakland Raiders (4-10) - plus other results to go their way - if they are to stay alive in the same race.
A pair of division leaders, Philadelphia Eagles (8-6) and Chicago Bears (8-6), meet at Lincoln Financial Field in Sunday's late kick-off.
The Eagles would claim the NFC East title if they win and Dallas Cowboys (7-7) lose at Washington Redskins (3-11) earlier in the day, while the Bears need victory combined with defeats for Detroit Lions (7-7) (at home to New York Giants (5-9)) and Green Bay Packers (7-6-1) (at home to Pittsburgh Steelers (6-8)).
The Packers will be without quarterback Aaron Rodgers for the seventh straight game due to a fractured left collarbone, meaning Matt Flynn gets his fourth start in a row.
Flynn rallied the Packers from a 23-point half-time deficit to a 37-36 victory over Dallas last week that kept Green Bay's play-off hopes alive. Victories against Pittsburgh and at Chicago in the final week of the season would be enough for Green Bay to top the NFC North.
Home comforts
Seattle Seahawks are another team who can lock up a division title on Sunday by beating Arizona Cardinals (9-5) at fortress CenturyLink Field.
The Seahawks have not lost at home since Christmas Eve 2011 and, by improving their league-best 12-2 record, would also secure top seed in the NFC and home-field advantage throughout the play-offs.
But they are without starting right guard JR Sweezy - a constant for the last 18 matches - on Sunday due to a concussion.
Arizona's play-off fate is out of their hands; defeat would definitely end their hopes of earning a wildcard in the NFC - but even victory might not be enough.
Also on Sunday there are three games between teams who are both already eliminated from the play-off picture; New York Jets (6-8) at home to Cleveland Browns (4-10), Tampa Bay Buccaneers (4-10) on the road at St Louis Rams (6-8) and Tennessee Titans' (5-9) trip to Jacksonville Jaguars (4-10), where second place in the AFC South is at stake.
San Francisco 49ers (10-4) entertain Atlanta Falcons (4-10) on Monday night and, depending on results the previous day, may still need a win to be sure of a play-off spot.
The Niners, who lost to Baltimore in last year's Super Bowl, have a 10-4 record and will already have secured post-season action if Arizona lose to Seattle, a result that would also end their slim hopes of overhauling the Seahawks for the division title.