NFL: Jamaal Charles signs new deal Kansas City Chiefs
Last Updated: 24/07/14 5:34pm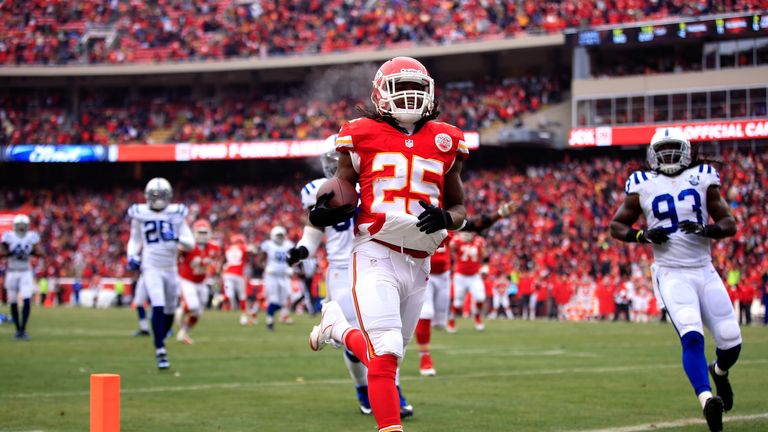 The Kansas City Chiefs have avoided a holdout from star running back Jamaal Charles after handing him a new two-year contract extension.
Charles still had two years to run on his current deal, which would have paid him almost $4m, but he was looking like he would stay away from pre-season training camp in search of a new contract.
The potential hold out situation did not last long though, as the two parties agreed on a fresh two-year extension and restructuring package which will more than double his income for this season.
A further $18m has been added to his contract, with Charles now bringing in just over $8m this coming season – making him the second highest paid back in the league behind only Adrian Peterson.
As much as Peterson is the talisman for Minnesota, Charles is becoming the same for the Chiefs, especially last season when he almost single-handedly carried their offence on his shoulders.
The 27-year-old topped the team charts in rushing yards (1,287) and touchdowns (12), along with receiving yards (693) and touchdowns (7) – with his 19 TDs overall also a league-leading mark.
Pro Bowl
Stats like those led to Charles picking up a third Pro Bowl selection in his sixth season in the NFL, and he is well on the way to becoming one of the best all-round running backs of all time.
''Jamaal is an elite player in the National Football League,'' Chiefs general manager John Dorsey said in a statement. ''It was important for us to keep him here in Kansas City long-term.''
With Charles now signed up, the Chiefs now have to turn their attentions to starting quarterback Alex Smith and linebacker Justin Houston, who are both coming into the final year of their contracts.
Smith started last season with nine straight wins as the Chiefs made the play-offs, and so far the 30-year-old has been at practice and minicamp and is seemingly calm over his situation.
Houston has not been at the Chiefs' pre-season so far, but is expected to report for training camp, with the 25-year-old looking for a new deal after a second straight Pro Bowl season where he had 11 sacks in 11 games.