NFL: Ray Rice banned for two games following altercation with wife
Last Updated: 24/07/14 6:51pm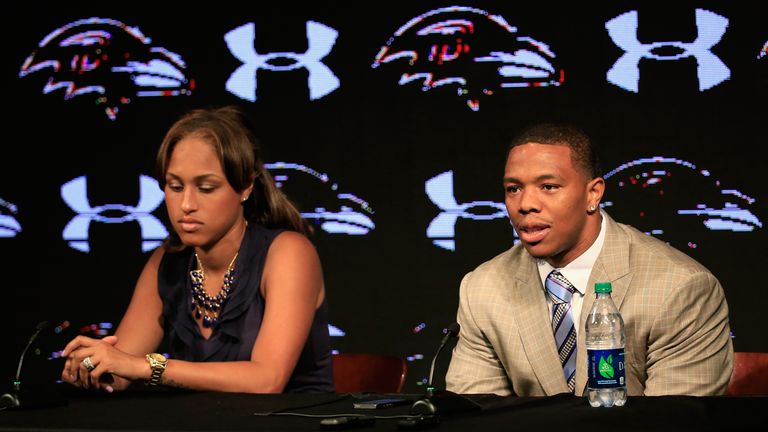 Baltimore Ravens running back ray Rice has been suspended for the first two games of the new season and fined a third game's wages for violating the NFL's personal conduct policy.
The ban is a result of Rice and his then-fiancee and now wife Janay being arrested on assault charges following an altercation between the pair at an Atlantic City hotel.
Rice was accused of hitting Janay but there was no prosecution as he went into a pre-trial program of intervention.
Although the 27-year-old avoided court, NFL commissioner Roger Goodell has still dished out a ban for the first two games without pay, and also taking his game cheque for the third outing of the new season.
"The league is an entity that depends on integrity and in the confidence of the public and we simply cannot tolerate conduct that endangers others or reflects negatively on our game," said Goodell in a letter to Rice released by the NFL. "This is particularly true with respect to domestic violence and other forms of violence against women.
"You will be expected to continue to take advantage of the counselling and other professional services you identified during our meeting. As you noted, this additional assistance has been of significant benefit to you and your wife, and it should remain a part of your practice as appropriate.
Learn from mistake
"I believe that you are sincere in your desire to learn from this matter and move forward toward a healthy relationship and successful career. I am now focused on your actions and expect you to demonstrate by those actions that you are prepared to fulfil those expectations."
Rice did not sound like he was going to appeal the decision as he released a statement following the announcement.
"It is disappointing that I will not be with my team-mates for the first two games of the season, but that's my fault," Rice said. "My goal is to earn back the trust of the people, especially the children, I let down because of this incident.
Rice will miss the first two games of the season against Cincinnati and Pittsburgh, but may attend pre-season training camp with the Ravens – who are standing by their running back according to coach John Harbaugh."I am a role model and I take that responsibility seriously. My actions going forward will show that."
"I stand behind Ray, he's a heck of a guy, he's done everything right since," said Harbaugh. "He makes a mistake, he's gonna have to pay a consequence.
"I think that's good for kids to understand it works that way, that's how it works, that's how it should be. We'll move forward, and the next guy will have to step up and Ray will be back when the time comes. It's not something that we're dwelling on, we're not worrying about it, we're just moving forward."