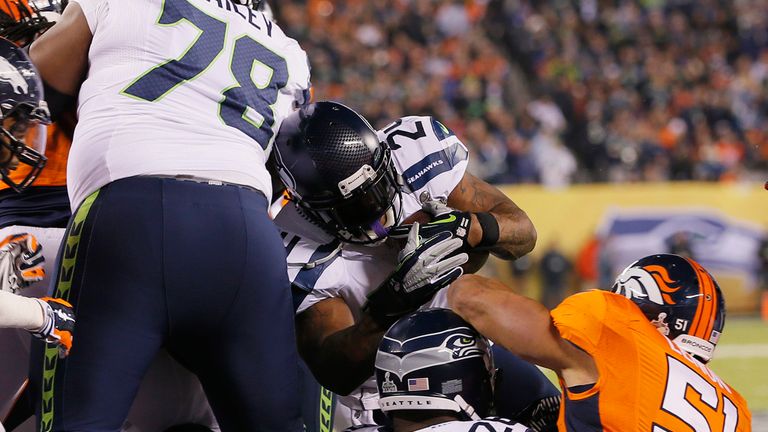 Running-back Marshawn Lynch has belatedly reported to training camp with the Seattle Seahawks after a seven-day holdout.
Lynch missed six training sessions with his team-mates, who will start the defence of their Super Bowl title next month.
The veteran rusher is looking for an improved contract after playing a massive part in their success last season - he ran 301 times for 1,257 yards and 12 touchdowns last season and added two more receiving scores.
Seahawks officials have previously said they do not plan to diverge from their financial plan to appease Lynch, although reports suggest they have re-worked his current contract so he receivers more pay this season. 
Seattle could also agree to waive some, if not all of the $495,000 in fines he has amassed for missing the first week of training camp.
Contract
He is entering the third year of a four-year contract worth up to $31m, and was set to make $5 million in base salary this year.
It is believed the Seahawks have given him his $500,000 roster bonus and incentive bonus and added a further $500,000 that they had pegged for him for 2015 and used that to increase his 2014 pay to $6.5 million.
Although that will ensure Lynch is back in the fold as Seattle begin their Super Bowl defence, it does suggest that growing rumours of him being a potential salary-cap casualty in 2015 could be on the mark.
Lynch is due to make $7m in 2015 and for such a violent runner who is closing in on the notorious 30-year-old running back categroy that could prove too much for the Seahawks to swallow.
He will at least have this season to prove he is worth a new deal next season, and he will be back with the team as soon as he has undergone a physical before returning to practice.