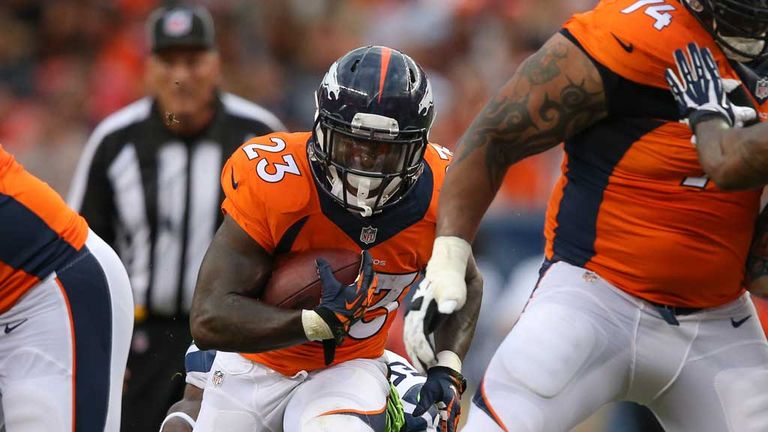 The Denver Broncos beat the Seattle Seahawks 21-16 in a pre-season matchup of last season's Super Bowl combatants.
Both teams struggled with conditions at Sports Authority Field, with the game being delayed by lightning and featuring a series of penalties.
Ronnie Hillman made a stout case for time at running back with an early touchdown, but that was cancelled out by a Christine Michael score and Seattle led 10-7 at half-time with Steven Hauschka kicking the first of three field goals.
But two second-half Broncos touchdowns proved enough for victory with Kapri Bibbs scampering three yards to go over and Brock Osweiler connecting with Jordan Norwood from 34 yards for the winner with 7:22 left on the clock.
If you wanted points, Arrowhead Stadium was the place to be, with the Kansas City Chiefs beating the Cincinnati Bengals 41-39 in a thriller.
Jason Campbell threw a couple of touchdowns for the Bengals but also contributed to their downfall with both of his interceptions being returned for a scores by Sean Smith and Malcolm Bronson.
Few starters had more than a series to impress but Matt Scott performed well in the final quarter for the Bengals with two touchdown passes to keep their hopes alive.
But the damage had already been done by their earlier interception problems and the Chiefs were able to hold on for victory.
The San Diego Chargers dominated the Dallas Cowboys 27-7 in their pre-season opener, with Kellen Clemens connecting on all five of his pass attempts, including a 70-yard score to Dontrelle Inman.
Washington eased to victory over the New England Patriots with Kirk Cousins and Colt McCoy throwing a touchdown apiece in the Redskins' 23-6 victory.
The Baltimore Ravens all-but shut down the San Francisco 49ers in a 23-3 success that saw Bernard Pierce rush for a score and Ray Rice receive a warm ovation from home fans.
And Michael Vick directed one touchdown drive for the New York Jets as they edged the Indianapolis Colts 13-10.