NFL preseason round-up: Wins for Seattle, New Orleans, Oakland and New England
Last Updated: 16/08/14 11:04am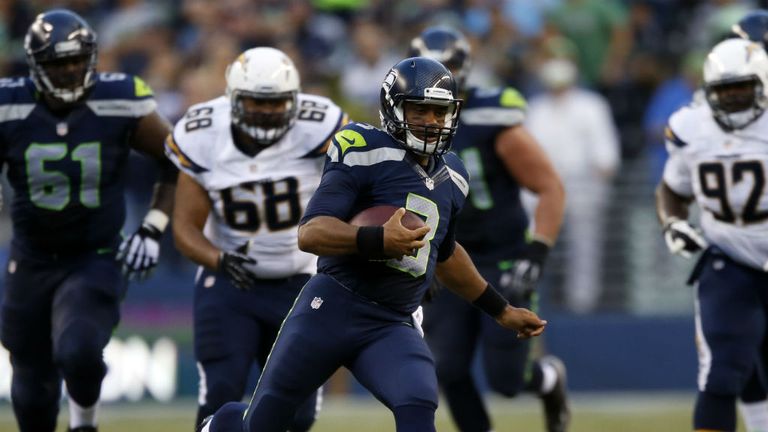 The Seattle Seahawks beat San Diego 41-14 in their first home appearance since winning the Super Bowl back in February.
Quarterback Russell Wilson threw for 121 yards and ran for two touchdowns as the hosts produced a far more polished display having lost their pre-season opener at Denver.
With Wilson having made way after completing 11 of his attempted 13 passes, back-up quarterbacks Terrelle Pryor and B.J. Daniels also rushed for a touchdown apiece in a one-sided victory.
A satisfied Wilson said afterwards: "I definitely believe we can be that explosive. It starts first of all with the offensive line and how well they're doing ... but then you think about our receivers and we have so many talented receivers."
Jimmy Graham caught two touchdown passes as the New Orleans Saints earned a 31-24 preseason victory over the Tennessee Titans.           
Star quarterback Drew Brees sat the contest out as he continues to recover from a stomach injury, but in his place Luke McCown threw for both of Graham's scores with Ryan Griffin also connecting with two TD passes for the Saints.
However, Graham drew penalty flags after both of his touchdowns as he celebrated by dunking the ball through the posts - coach Sean Payton seemingly annoyed with his tight end following his second indiscretion.
Titans starter QB Jake Locker was eight of 11 for 75 yards, with a touchdown to Justin Hunter, while former LSU quarterback Zach Mettenberger passed for his first two TDs as a pro, but was also intercepted once as the Titans turned the ball over five times.
Matthew Stafford threw touchdown passes on his first two drives, but that still wasn't enough for the Detroit Lions who went down to a 27-26 defeat to the Oakland Raiders.
Matt McGloin connected on a 19-yard TD pass to Brice Butler with six seconds to go to give Oakland a last-gasp win.
McGloin entered the game after backup Derek Carr was forced off with injured ribs earlier in the fourth quarter and led the game-winning 68-yard drive - Sebastian Janikowski kicking the 33-yard extra point to clinch victory.
Meanwhile, Tom Brady started for the New England Patriots in their 42-35 win over the Philadelphia Eagles and threw for a touchdown and also an interception before making way early in the contest.