NFL: Cleveland Browns lose to the Washington Redskins as Johnny Manziel struggles
Last Updated: 20/08/14 5:16pm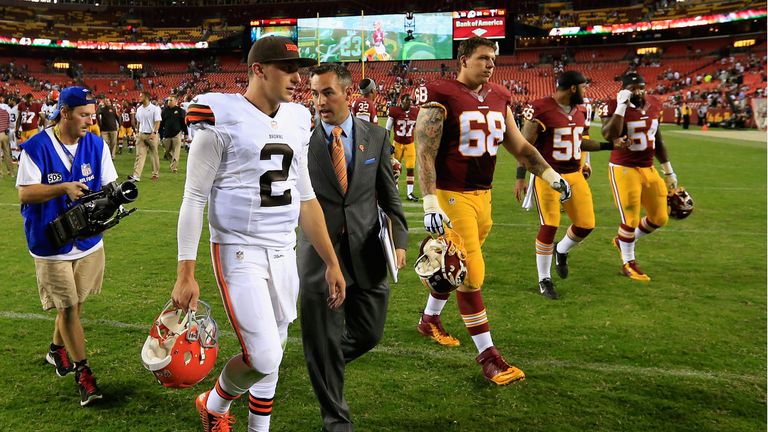 Johnny Manziel failed to impress as the Cleveland Browns suffered a 24-23 preseason defeat to the Washington Redskins.
Manziel, a 22nd overall pick in the 2014 Draft, completed just seven-of-16 passes for 65 yards as he struggled to connect with his receivers.
And Manziel blotted his copybook further when he appeared to raise his middle finger at the Redskins bench late in the third quarter.
Manziel did throw an eight-yard touchdown pass to Dion Lewis in the fourth quarter, however Connor Shaw, a 22-year-old rookie, raised the bar as he completed eight-of-nine passes for 123 yards and a touchdown - a 45-yard connection to Emmanuel Ogbuehi.
Billy Cundiff also landed two field goals while Jim Leonhard returned a 19-yard interception for the Browns but it was all vain as the Redskins registered another preseason win.
Kirk Cousins and Robert Griffin III both passed for over 100 yards for Washington, while Colt McCoy tossed a 30-yard touchdown pass to Nick Williams to ultimately settled the win and made amends for his earlier interception.
Cousins also threw a 14-yard scoring pass to Ryan Grant, while Evan Royster rushed over from two yards.