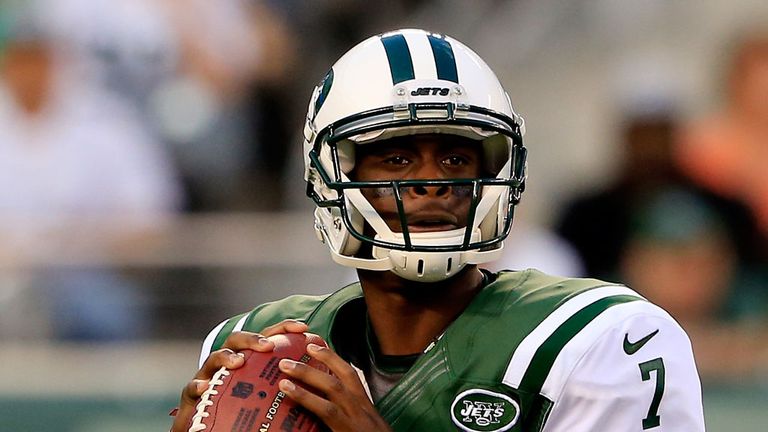 New York Jets coach Rex Ryan confirmed Geno Smith will start the season as his quarterback after their pre-season defeat by the New York Giants.
Smith threw an early touchdown and performed well as the Jets had the better of the first-half, but the Giants' fringe players battled hard after half-time and eventually prevailed 35-24.
He has been battling with free agent signing Michael Vick to lead the Jets offense and Ryan said after the game: "He's done everything that we've asked.
"This is no slight to Mike Vick, believe me. I wanted to come out of this knowing we had two really good quarterbacks that we can win games with, and I know, in my heart, that we have two we can win with."
Smith connected with tight-end Jace Amaro for a one-yard score to put the Jets 10-0 in front before Eli Manning hit Rueben Randle for a 15-yard score five seconds before half-time.
But it was Giants back-up QB Ryan Nassib who stole the show in the second-half with three touchdowns, finding Henry Hynoski, Preston Parker and Corey Washington, the last score sealing their victory with just over two minutes left.
Vick did manage one touchdown pass after taking over from Smith, connecting with Eric Decker from three yards.
Russell Wilson had an impressive night in Seattle with three touchdowns in the Seahawks' 34-6 win over the Chicago Bears.
Wilson rushed for a seven-yard score and hit Jermaine Kearse and Christine Michael through the air, with Marshawn Lynch also showing his form with an early seven-yard touchdown run.
Tom Brady shredded the Carolina Panthers defense for two touchdowns as the New England Patriots eased to a 30-7 victory.
Brady found Shane Vereen for a 40-yard score and again connected with the running-back from six yards after half-time before heading to the bench for a rest.
Aaron Rodgers also looks ready for the start of the season after throwing two scores in the Green Bay Packers' 31-21 win over the Oakland Raiders.
After Eddie Lacy and Maurice Jones-Drew swapped rushing touchdowns, Rodgers hit Jordy Nelson and Andrew Quarless for second quarter scores to send the Packers on their way to victory.
Offense was tougher to find in Detroit, where the Lions edged past the Jacksonville Jaguars 13-12.
Reggie Bush's 86 yard touchdown run in the first quarter proved to be the only excitement of the opening half and, after Blake Bortles found Allen Hurns for the sole Jaguars touchdown in the third quarter, it was George Winn who earned the Lions victory with just over seven minutes remaining.