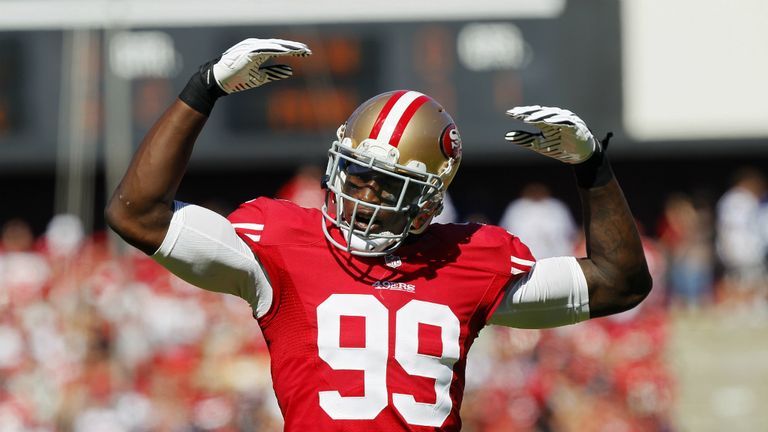 San Francisco 49ers linebacker Aldon Smith has been suspended for the first nine games of the 2014 season.
NFL Commissioner Roger Goodell handed down the punishment on Friday because of Smith's long list of legal run-ins.
The outside linebacker is banned without pay but can still train at the team's practice facility on his own and attend team meetings.
Smith, 24, missed five games last season after entering an alcohol rehabilitation centre following an arrest for DUI in September.
It was his second DUI arrest in 18 months, the first being reduced to reckless driving, and he was also arrested for allegedly making a bomb threat at Los Angeles International Airport - that charge was eventually dropped.
The suspension also is punishment for gun charges that were filed against Smith in connection to an out-of-control party at his home in June 2012.
A statement from the NFL Players' Association said: "On Aldon's behalf, the NFLPA worked with the NFL to craft disciplinary terms that reflect Aldon's desire to take responsibility for past mistakes and show his commitment to being a dedicated professional by going to work every day to study with his coaches and teammates and train at the facility.
"The terms of the discipline reflect his desire to show his teammates, employer and fans that he has made real changes to his life since the difficult incidents that are the basis for the NFL's discipline."
Return
Smith is eligible to return one day after the 49ers play the New Orleans Saints on November 10, meaning his first game back would be the week 11 clash with the New York Giants.
His absence leaves a second big hole in the 49ers defense, with last season's star player Navorro Bowman out until midseason with the torn anterior cruciate ligament he suffered in January.
The pair could return at a similar time and boost the San Francisco defense down the stretch run which includes both games against divisional rivals and reigning Super Bowl champions Seattle, but the Niners insist they have planned for his absence.
"Our organization has known this decision would come and we have prepared for it as a team," said team general manager Trent Baalke.
"Aldon has taken responsibility for his actions and has continued to show growth personally and professionally. We will continue to support him, but it is time to put this matter behind us and focus on the season ahead."