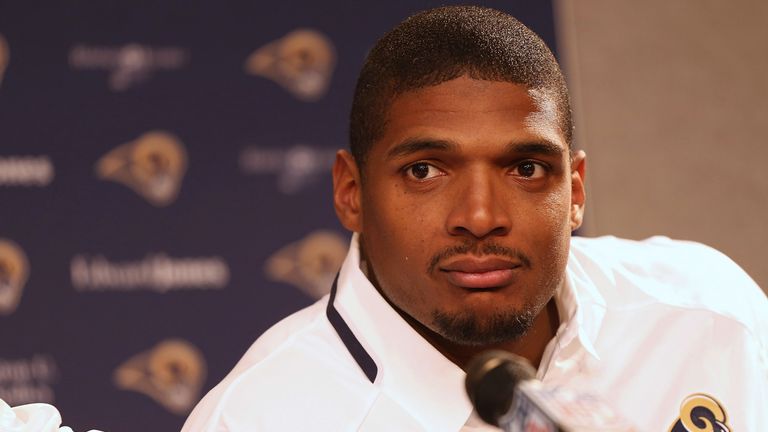 Defensive end Michael Sam's dream of becoming the first openly gay player in the National Football League has been put on hold after he failed to make the St Louis Rams' 53-man roster for the 2014 regular season.
The 24-year-old, a standout with the University of Missouri who had announced he was gay in February, was one of 22 players waived in a final cut by the Rams to reach the roster limit before Saturday's deadline.
Sam, who became the first openly gay player to be selected in an NFL Draft when he was taken in the seventh round by the Rams in May, can now be claimed by any team but could join the Rams as part of a 10-player practice squad if he clears waivers.
He had been vying with undrafted Ethan Westbrooks during pre-season for the last of nine defensive line spots with the Rams.              
Westbrooks, who made the roster, ended up with 12 tackles and two sacks in four pre-season games, while Sam had 11 tackles and a team-leading three sacks.              
"I want to thank the entire Rams organisation and the city of St Louis for giving me this tremendous opportunity and allowing me to show I can play at this level," Sam tweeted after the Rams' decision.
"I look forward to continuing to build on the progress I made here toward a long and successful career. The most worthwhile things in life rarely come easy, this is a lesson I've always known. The journey continues." 
Rams coach Jeff Fisher, who spoke to Sam by phone before the final roster moves were announced, said it had simply been "a football decision" to cut the defensive end.
"The decision is no different than any other decision that we make," Fisher said. "It was a football decision back in May to draft Mike and once again it's been all about football.
"I will tell you this, I was pulling for Mike, I really was. I don't say that very often. Mike came in here and did everything we asked him to do.
"He got a chance to play a lot of snaps, he had the second-most snaps on the defensive line to Ethan Westbrooks, and was productive. But as we said on the front end of this, this was going to be a tough road."