NFL: Jacksonville Jaguars building community links in second home of London
Last Updated: 01/09/14 1:48pm
The Jacksonville Jaguars continued to embrace their position as London's NFL team as they staged an ultimate sleepover at Wembley Stadium for 100 children.
Jacksonville signed up to play four regular season games at Wembley as part of the NFL International series, and are two games into that deal.
This year, with the addition of a third Wembley game showing the ever-growing popularity of the sport, the Jaguars will play host to 'America's Team' the Dallas Cowboys, on Sunday November 9.
The Jags are keen to not only turn up and play at Wembley but also put down some long-term roots in the UK and build up a solid fan base, which also includes extending their community initiatives to this side of the Atlantic.
Their 'A Hope to Dream' initiative had previously seen lucky kids sleeping over at Jacksonville's EverBank Field last year, and they have now done the same at Wembley.
"We believe that every child has the right to their own bed. It's the last place they go at night and the first place they wake up in the morning," said Jaguars owner Shahid Khan, who also owns Fulham FC.
Second home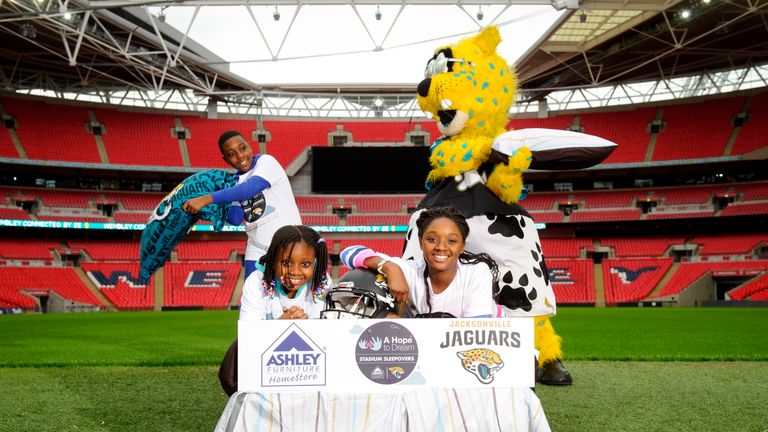 "It's a place of comfort and security and that's something that no child should be without. We've seen the benefits of A Hope to Dream in Jacksonville and, with our partners Ashley Furniture, we were so excited to bring it impact in London, our second home."
In partnership with US firm Ashley Furniture HomeStore the Jaguars had 100 beds shipped over directly from Florida. More than half the children attending were from households where they are without their own bed. These children had the bed they slept in delivered to their home the next day.
The remaining beds have been donated to children's charity Kids Company, who provide practical, emotional and educational support for vulnerable children, to distribute to some of the most in-need households in London.
The children were hosted by the Jaguars' mascot Jaxson de Ville, was recently voted the United States' favourite mascot and was last seen at Wembley at their last game when he abseiled from the roof of the famous stadium.
The team's professional cheerleaders the ROAR of the Jaguars also brought their own brand of stardust to the sleepover party which included a tour of Wembley, a film with popcorn and a dance party with the ROAR.