NFL: Denver Broncos receiver Wes Welker banned for four games for drugs violation
Last Updated: 03/09/14 3:04pm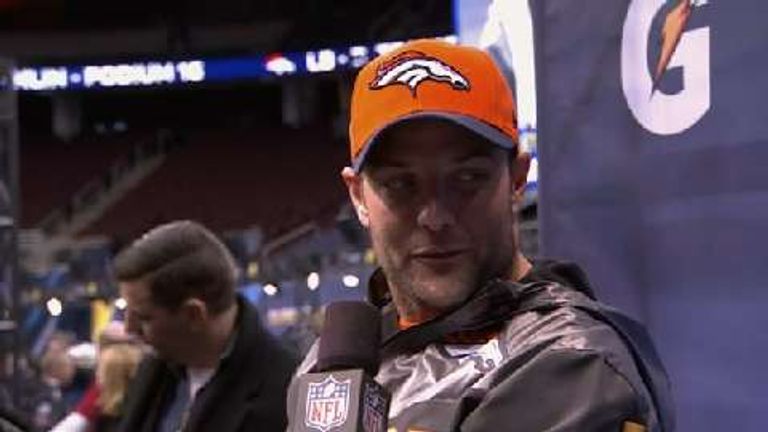 The Denver Broncos feared they may lose Wes Welker for the start of the season after he suffered concussion in pre-season, but it turns out they will miss him for the first four games of the campaign anyway after he was suspended by the NFL.
The former Patriots wide receiver was handed a four-game ban for violating the league's policy on taking performance-enhancing drugs.
Reports suggest Welker gave a positive drugs test back in May, and his appeal against the ban was made two weeks ago and was rejected on Tuesday.
Welker insists that he has not knowingly taken any performance enhancing drugs, sending an email to the local Denver Post newspaper to state his case.
"I'm as shocked as everyone at today's news," Welker wrote. "I want to make one thing abundantly clear: I would NEVER knowingly take a substance to gain a competitive advantage in any way.
"Anyone who has ever played a down with me, lifted a weight with me, even eaten a meal with me, knows that I focus purely on what I put in my body and on the hard work I put in year round to perform at the highest levels year-in and year-out."
Welker also responded to widespread report he took Ecstasy, also known as Molly, while watching the horse racing at the Kentucky Derby.
Denial
"I wouldn't have any idea where to get a Molly or what a Molly is," Welker told the Post. "That's a joke. I don't do marijuana, I don't do drugs. I don't do any drugs."
It's a big blow to Welker, who will miss three games at Mile High Stadium, where he did most of his damage catching passes from Peyton Manning in Denver last season.
Sadly for him it is also untimely, as his contract expires at the end of the season and he will have four less games to convince the Broncos he is worthy of a new deal.
Denver are also suffering with the ban though, after letting Eric Decker leave to join the New York Jets, Manning will now be without the duo that caught 60 percent of his completions last season – although they still have an impressive set of receivers to cover.
"Tonight's news regarding Wes is very disappointing for our team, but we understand the league's authority in this area," Broncos coach John Fox said in a statement. "While it's unfortunate to not have him to start the year, I have full confidence in our wide receivers and expect that group to continue playing at a high level.
"I have no doubt that Wes will remain focused on his preparations for the season and stay in excellent shape during his time away from the team."
Demaryius Thomas proved to be one of the top wideouts in the league last year, namesake Julius is also a dominant force at tight end and free agent Emmanuel Sanders has played well in pre-season after joining from Pittsburgh.