Atlanta Falcons wide receiver Julio Jones playing for the team
By Tom Julian
Last Updated: 02/12/16 7:50am
Julio Jones leads the NFL in receiving yards with 1,140 so far this season, but he isn't concerned about individual honours or accolades.
The Atlanta Falcons wide receiver often finds himself in double - or even triple - coverage from opposition defenders which limits his touchdown figures, but it is his presence which allows him to contribute so effectively to the Falcons' offence.
With Jones removing opposition cornerbacks, Taylor Gabriel and Mohamed Sanu have found opportunity to flourish. Gabriel in particular, a free agent following his release this summer, has profited from working in a pair with Jones. In only his second start this season, the 5ft 8in receiver had two touchdowns from just four receptions against the NFL's top ranked defence, the Arizona Cardinals.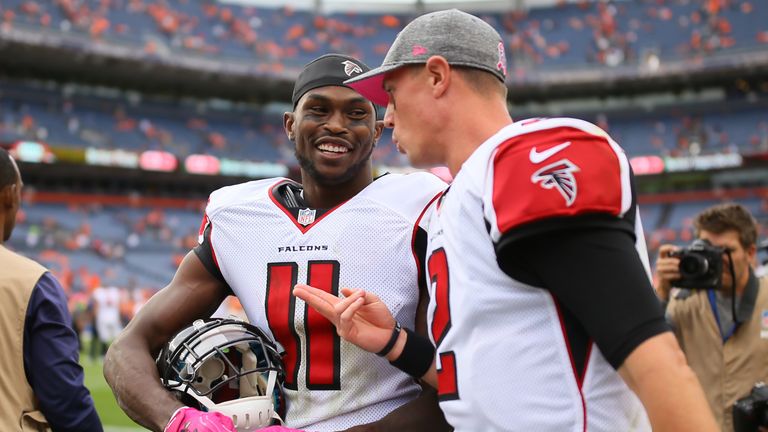 The wide receiver is only as good as the quarterback, and the Falcons lead the NFC South as a product of Matt Ryan's MVP-calibre year. A nine-year veteran who has long been respected in the NFL, Ryan is now a quarterback opposition defences are concerned about. As two of the team's captains, Jones knows that the rest of the team look to him and Ryan as the Falcons aim to get to the post-season for the first time since 2012.
"I've been here six years with him, I know what he wants and vice-versa," Jones said. "We just try and get people on the same page, because people look to us for results - we're the leaders on offence."
And when the receivers can't break coverage, Atlanta are able to fall back on two of the most dynamic running backs in the league. With Tevin Coleman returning to match fitness, offensive coordinator Kyle Shanahan has a physical runner to accompany Devonta Freeman's agile cutting ability.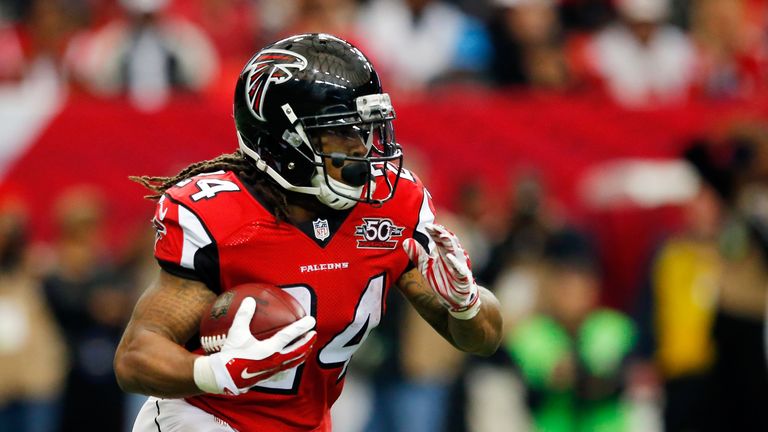 The Falcons have not had a productive tight end since Tony Gonzalez retired, but rookie Austin Hooper appears to be making a case as the future of the position. It is a difficult position to impress in as a rookie, but the third-round pick has shown flashes which suggest the franchise could look to him long term. 
However, when Hooper goes quiet there is always Levine Toilolo ready to step up and battle for his chance at the position. At 6ft 8in, Toilolo is a great red zone target and offers another option for Ryan at the goal line. 
Success in Atlanta is borne from weapons all over the offence. If the team lose players through the season, as they have done, it provides an opportunity for someone else to prove their worth. Despite this competition, there is a comradery that binds them in a united play-off push.
This starts with Jones as the leader. His mantra "all about the W" reflects the team; it's not about individual carries, yards or touchdowns, it's about whether the Falcons progress into January or not.
Sky Sports is your home of NFL. Watch the Chiefs @ Falcons live on Sky Sports 2 as part of the NFL triple header from 5:30pm on December 4.