The Minnesota Vikings scored a last-minute touchdown but it wasn't enough as the Dallas Cowboys held on for a 17-15 win.
Ezekiel Elliott and Dez Bryant had a score each for the visitors, before Jerick McKinnon replied with a three-yard touchdown, with just 30 seconds left in the game. 
However, they couldn't convert the two-point play and Dallas held on for their 11th consecutive victory.
In 140 Characters...
Eleven wins straight for the Cowboys who could book their play-off place this weekend. Not as convincing as previous weeks but the streak continues.
MVP
Anthony Hitchens had his best game of the season, on a night when the defence needed to make stops. The third year linebacker had 10 tackles, two for loss, and a sack. He also broke up a pass and made an interception, the latter overruled due to a penalty.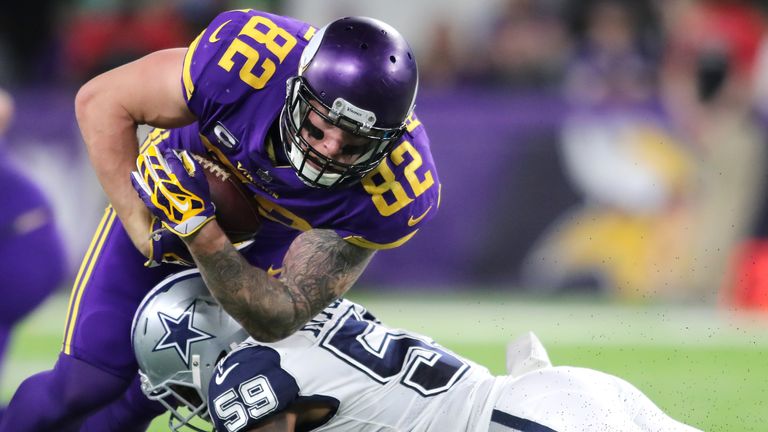 Game-changer
Forcing the Cowboys to punt away, Minnesota fumbled in the back field, which was recovered by Cowboys' linebacker Kyle Wilbur at the eight yard line. Dak Prescott connected with Dez Bryant wide left, before the wide receiver ran eight yards into the end zone, pushing the game further from the Vikings' reach.
Stat of the night
13 - Ezekiel Elliott now has 13 touchdowns, tying with Adrian Peterson's rookie total. The Vikings' running back was on the sideline for this game. 
Scoring Summary
| | | |
| --- | --- | --- |
| 1st Quarter | | |
| DAL 0-3 MIN | FG - K. Forbath 48 yd | |
| 2nd Quarter | | |
| DAL 7-3 MIN | TD - E. Elliott 1 yd rush | Extra Point - D. Bailey |
| 3rd Quarter | | |
| DAL 7-6 MIN | FG - K. Forbath 36 | |
| 4th Quarter | | |
| DAL 7-9 MIN | FG - K. Forbath 33 yd | |
| DAL 14-9 MIN | TD - D. Bryant 8 yd pass - D. Prescott | Extra Point - D. Bailey |
| DAL 17-9 MIN | FG - D. Bailey 39 yd | |
| DAL 17-15 MIN | TD - J. McKinnon 3 yd pass - S. Bradford | Two point conversion failed |
The game
The Vikings opened the scoring with a 48-yard field goal, but it was Dallas who got into the end zone first. With five minutes left to play in the first half, Prescott found Bryant for a 56-yard gain, before Elliott ran the ball in from a yard.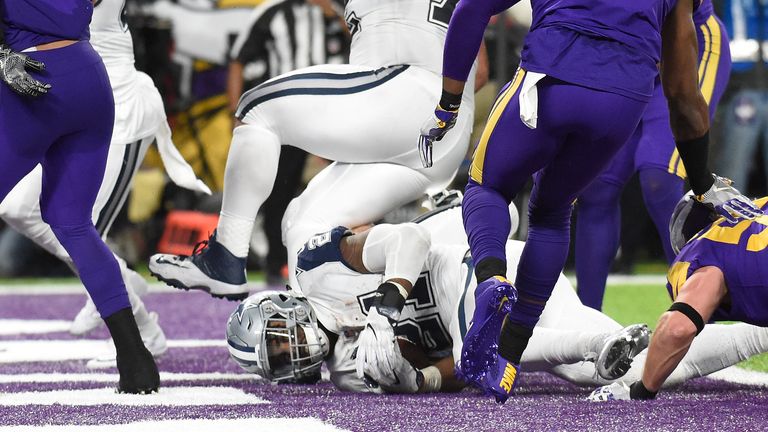 Defences were on top throughout as Vikings' special teams coordinator George Edwards contained the offensive threat of Dallas that so many have failed to do so far this season. Standing in for Mike Zimmer, who missed the game to have eye surgery, Edwards' side held Prescott to 139 yards for the night, and Elliott to his lowest rushing total since week two.
Vikings quarterback Sam Bradford was forced off with a rib injury just before half-time, after taking a massive hit to the ribs from Maliek Collins. Shaun Hill stood in for two plays, before Bradford returned to begin the second half.
After adding a field goal in the third quarter, Minnesota took the lead at the start of the fourth with another from Kai Forbath, but it was Bryant's eight-yard score from the fumble recovery that returned the advantage to Dallas. 
Dan Bailey added a 39-yard field goal on the Cowboys' next drive, before Minnesota mounted their comeback. With just over two minutes to play, Sam Bradford led his team 65 yards off eight plays before tossing a short pass to McKinnon to bring them within two points.
It wasn't to be the great escape for the Vikings as Bradford, facing pressure, launched high above the head of tight end Kyle Rudolph.
Dallas' win gives them a two game cushion, and the team can clinch a play-off berth if either the Tampa Bay Buccaneers or Washington Redskins lose this weekend. 
The Vikings slip to .500 on the season, and face a three-way battle with the Detroit Lions (7-4) and Green Bay Packers (5-6) for the NFC North.