Vikings stun San Francisco
Christian Ponder starred as the Minnesota Vikings claimed a shock 24-13 win against the San Francisco 49ers.
Last Updated: 23/09/12 10:02pm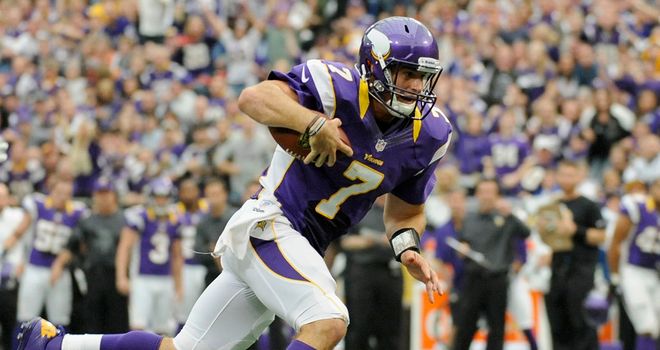 Christian Ponder threw two touchdown passes and ran in another score as the Minnesota Vikings claimed a shock 24-13 win against the San Francisco 49ers at Mall of America Field.
Both of Ponder's scores went to tight end Kyle Rudolph as the 49ers slipped to 2-1 after posting two impressive wins over the Green Bay Packers and Detroit Lions.
The Vikings (2-1) began the game boldly with a fourth-and-goal touchdown pass by Ponder to his favourite target Rudolph. They also finished strong by forcing three turnovers and two punts as the 49ers attempted a comeback in the fourth quarter.
Playing against his old team in the regular season for the first time, former Vikings favourite Randy Moss had a quiet afternoon with three catches for 27 yards.
Frank Gore managed only 63 yards on 12 carries, and Alex Smith's franchise-record interception-free streak ended at 249 straight passes when Vikings rookie Josh Robinson picked him off.
The Vikings went 82 yards in 16 plays to start the game as running back Adrian Peterson was stonewalled for one-yard on second-and-goal at the two and no gain on third down.
But with inches to go, Ponder rolled left under pressure and threw a floater off his back foot which Rudolph ran down in front of Aldon Smith in the corner of the end zone for a 7-0 lead.
Lead
The Vikings then forced a short field goal by David Akers before Ponder went four-of-four for 39 yards passing and took off three times for 34 yards on the next possession, including the 23-yard sprint that made it 14-3.
Then, to finish off Minnesota's overall dominance of the first half, Letroy Guion blocked a 43-yard attempt by David Akers and Ponder moved the Vikings close enough for rookie Blair Walsh to make a 52-yard field goal that stretched the lead to 14 points.
Akers hit a 29-yard field goal at the start of the second half before Smith found tight end Vernon Davis on consecutive passes, the second one a one-yard play-action fake, to make it 17-13.
But with one third-and-goal pass by Ponder -- Adrian Peterson was wide open next to Rudolph, who reached around Donte Whitner to corral it -- the lead was back to 11.
The 49ers have had the NFL's stingiest run defence since 2009, allowing barely three yards per attempt, and Peterson received another gruelling reminder of that. Even the holes that appeared at the line closed up in a hurry. He finished with 86 yards on 25 carries.
Ponder was up to the challenge, though. Entering the game with the league's best completion percentage, he kept up his efficiency and was especially smart on third downs and against the blitz. Ponder went 21 for 35 for 198 yards and, most importantly, no turnovers.
The disappointing result for the 49ers was compounded when star linebacker Patrick Willis walked gingerly off the field with assistance with an apparent injury to his right leg.