NFL: Jacksonville Jaguars kicker Josh Scobee looking forward to Wembley games
Jacksonville Jaguars kicker Josh Scobee talked to Sky Sports about his side's four-year stretch of London games.
By Alex Williams
Last Updated: 14/10/12 11:53pm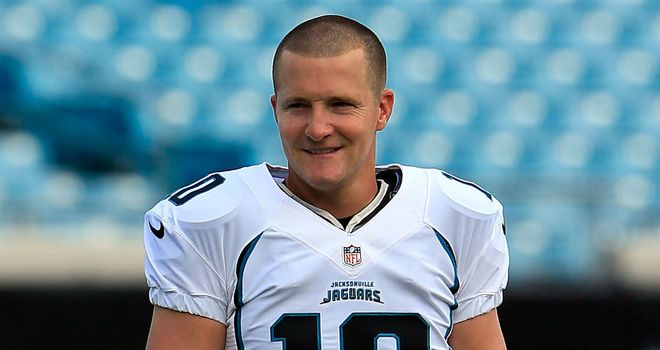 The Jaguars have committed to play one game a year at Wembley from 2013-2016, with the first of their opponents being revealed on Thursday as the San Francisco 49ers.
Regular season games have been held in London since 2007 but for the first time fans will now be able to see how a team grows over a period of time, and Scobee believes Britain's NFL faithful will form an attachment to Jacksonville.
"I hope the British fans take us in and are able to call us their team," the 30-year-old told Sky Sports from London.
"With us playing here the next four years they can get to know some of the players and really feel like it's their home town team.
"So I'm looking forward to meeting some fans next year and getting their perspective on it."
He added: "On Twitter I've had quite a few fans from here follow me and we've had a couple of conversations about the games and fans are already saying that they can't wait to buy tickets.
"So the excitement here is real for NFL football and I'm very much looking forward to the games that we will be playing here."
Jetlag
Although Wembley offers an exciting stage, obvious concerns over the effect of trans-Atlantic travel on a tight schedule are prevalent in NFL locker rooms.
But Scobee thinks the Jaguars can use the time difference to their advantage next year as they have three hours fewer to adjust to compared to West Coasters San Francisco.
He said: "For the most part everyone is looking forward to it, the only negative to it is trying to get over the jetlag with the five-hour time difference. I think that will be the only (drawback).
"Playing the 49ers we'll have a three-hour time difference on them, that's a good thing. We'll be able to adjust a little bit easier hopefully.
"Whenever teams from the East Coast travel to the West Coast in the States you have to adjust to that time. There's quite a home field advantage, so hopefully we'll have that home field advantage here."
After finishing 5-11 last year, the Jaguars have made a disappointing start to the 2012 season, slipping to 1-4 as second-year quarterback Blaine Gabbert continues his tough introduction to the NFL.
But Scobee is confident the team will improve in the coming years and he expects Gabbert to be a key part of turning the franchise's fortunes around.
Develop
"Obviously this year we're off to a start that we didn't like, but I do think we have some young players that are going to come into their own and help us develop as a franchise," Scobee said.
"We also have a very young quarterback, whenever he gets it going I think he'll be someone who's a playmaker for our team and a leader for our team.
"I'm not saying he isn't a leader now but with more experience quarterbacks can gain confidence and their leadership role just grows."
Scobee, who has been with Jacksonville since 2004 and recently signed a new four-year contract, tied the franchise record for total number of field goals in a 41-3 defeat to the Chicago Bears last time out.
While several of his fellow kickers are well-travelled and ply their trade on the periphery of rosters, Scobee feels he is one of the main parts of the Jaguars' set-up.
"Now that I've been there nine years I'm one of the older guys now that I'm 30 - there are a lot of the younger guys," he added.
"But I do feel like I'm one of the leaders on the team and hopefully I'll be there for these four years and in years to come."