NFL: Lawrence Tynes kicks New York Giants to win over San Francisco 49ers at Candlestick Park
Lawrence Tynes kicked four field goals as the New York Giants beat the San Francisco 49ers 26-3 at Candlestick Park.
Last Updated: 15/10/12 11:50am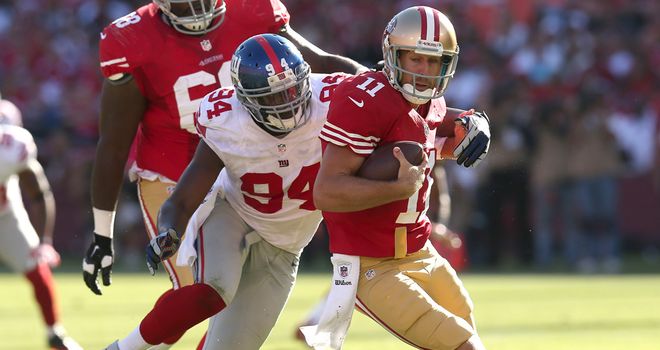 Tynes was on target from 34, 30, 22 and 32 yards and the Giants also scored two touchdowns through Victor Cruz and Ahmad Bradshaw.
Quarterback Eli Manning served up a six-yard pass to Cruz in the second quarter to put the defending Super Bowl champions in front for the first time, San Francisco kicker David Akers' 42-yard field goal having been the only scoring act of the first quarter.
Bradshaw went in from one yard on the ground in the third quarter and the Giants pulled further clear thanks to regular contributions from Greenock-born Tynes.
The Giants defence intercepted 49ers quarterback Alex Smith three times - Antrel Rolle twice and Prince Amukamara - and sacked him four times.
Smith was under constant pressure and it only got worse when San Francisco's left tackle Joe Staley left the game with a concussion in the third quarter.
The result puts the Giants top of the NFC East at 4-2, while the 49ers, who have the same record, are alongside Arizona and Seattle in the NFC West.