NFL: Denver Broncos claim an historic 35-24 victory over the San Diego Chargers
The Denver Broncos claimed an historic 35-24 victory over the San Diego Chargers in Monday's NFL game.
Last Updated: 16/10/12 12:49pm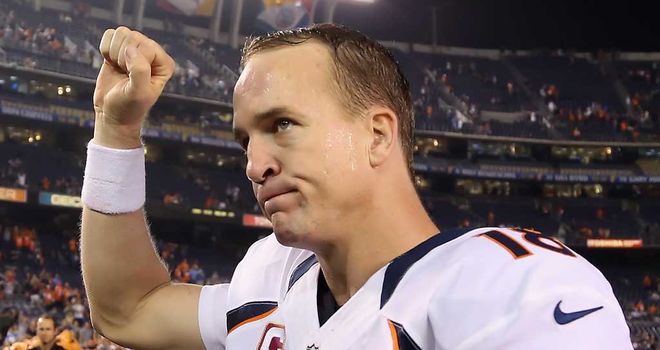 Peyton Manning sparked a fightback from 24-0 down, the first time ever that an NFL team has won by more than 10 points after trailing by 24 points.
Manning completed 24-of-30 passes for 309 yards, going 13-of-14 in the second half, to inspire his 47th fourth-quarter victory fightback, matching Miami legend Dan Marino for the NFL record in career victory rallies.
Chargers quarterback Philip Rivers threw an 11-yard scoring strike to Antonio Gates with 24 seconds remaining in the second quarter to give the Chargers a 24-0 half-time lead, matching the largest half-time deficit Manning had ever faced.
Manning connected with Demaryius Thomas on a 29-yard touchdown pass early in the third quarter and Tony Carter returned a fumble recovery off a sack of Rivers 65 yards for a touchdown, to reduce the deficit to 24-14.
A seven-yard touchdown pass from Manning to Eric Decker just 87 seconds into the fourth quarter made it 24-21.
Manning then threw a 21-yard touchdown pass to Brandon Stokley with nine minutes left to put Denver ahead for the first time at 28-24.
Rivers tried to spark San Diego back into life but threw an interception to Chris Harris and the Broncos defender raced 46 yards for the final touchdown with just over two minutes remaining.
"I don't have them ranked but it sure is special," Manning said. "It was a pivotal game. We can work on doing some things better and get things turned around.
"It's about playing 60 minutes. There's no quit in this team. We have some things to work on but this is a great win."