NFL: Mario Williams endures a losing return to Houston with Buffalo Bills
The Houston Texans moved to 7-1 on the season with a 21-9 victory over the Buffalo Bills at Reliant Stadium.
Last Updated: 04/11/12 9:47pm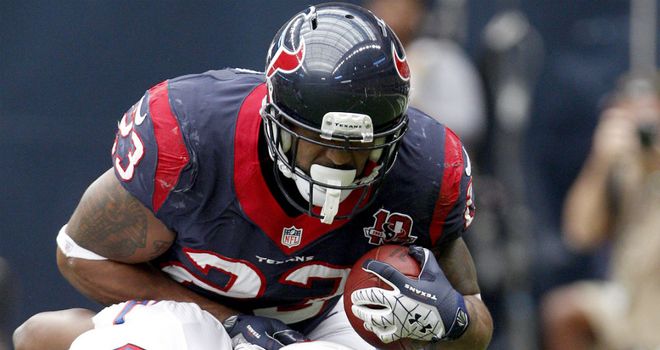 Running back Arian Foster managed 111 yards and a touchdown, meaning he has now reached the end zone in his team's last five games, against the NFL's worst rushing defense.
Defeat meant a disappointing return to Houston for Bills Mario Williams. A former first-round pick of the Texans who left in the last off-season, the defensive end did manage a sack and five tackles against his former employers.
Indeed, the Texans - who have only been beaten by the Green Bay Packers so far this season - didn't have it all their own way, with the hosts only holding a 7-6 lead at the end of the first half.
Owen Daniels gave them a 7-0 lead in the final minute of the opening quarter when quarterback Matt Schaub threw a superb 39-yard pass to tight end Owen Daniels after Buffalo had bitten badly on a play-action.
Yet the Bills remained in touch thanks to a pair of field goals from Rian Lindell, who was on target from 22 and 38 yards in the closing two minutes of the second quarter.
Even when Foster smashed his way in from three yards out in the third, the visitors mustered a third Lindell field goal to keep it within a one-score game.
But any chance of a road win disappeared when Schaub - who finished 19 of 27 for 268 yards and two touchdowns - hit Garrett Graham on a five-yarder that put some daylight between the teams.