Cincinnati Bengals hand Kansas City Chiefs seventh straight defeat
Andy Dalton threw for 230 yards and accounted for three touchdowns as Cincinnati beat the Kansas City Chiefs 28-6.
Last Updated: 18/11/12 11:13pm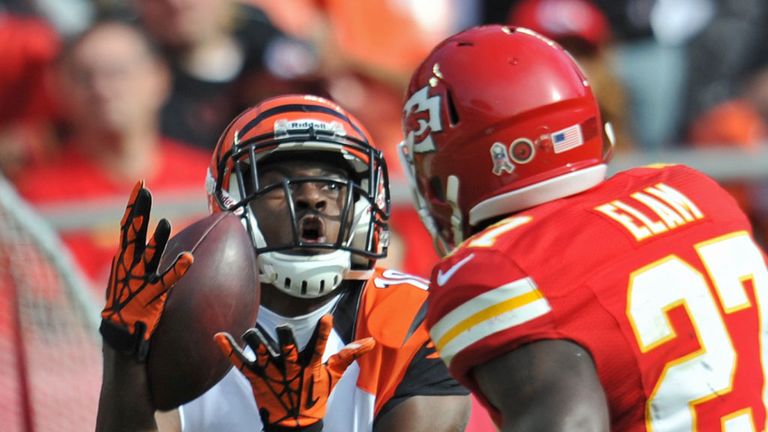 AJ Green finished with six catches for 91 yards in another dazzling performance, Mohamed Sanu had a scoring grab and BenJarvus Green-Ellis ran for 101 yards and a touchdown as the Bengals (5-5) won their second straight following a four-game losing streak.
Jamaal Charles had 87 yards rushing for Kansas City (1-9), but that was the only highlight for a team that lost its seventh straight amid a gloomy backdrop at Arrowhead Stadium.
The Chiefs' once-raucous home venue was only about half-full most of the game, and a good portion of those who showed up were dressed in black - a grass roots effort organised by fans who have been trying to pressure team ownership to clean out the front office.
The Chiefs' performance on the field wasn't much different than the rest of the year: They took an early lead for a change, but the offense couldn't get going behind quarterbacks Matt Cassel and Brady Quinn.
To sour their situation even further, wide receiver Dwayne Bowe hurt his neck and right tackle Branden Albert was lost with a back injury.
The Chiefs struck first for the second straight week, turning several nice runs by Charles into a 34-yard field goal by Ryan Succop, before reality set in again.
The Bengals marched 78 yards the other direction, twice converting on fourth down - once when Cedric Peerman ran 32 yards on a fake punt - and once when Dalton scrambled for 11 yards on fourth-and-7.
Cincinnati made it 14-3 later in the second quarter when Dalton fooled the entire Kansas City defense on a perfectly executed naked bootleg. The one-yard TD run came on fourth down.
The Bengals' most impressive drive of the game, though, came after they forced the Chiefs to punt for the third straight time, an 11-play, 78-yard masterpiece in which they faced third down just the once. Ellis capped that one off with a short touchdown plunge for a 21-3 lead.