NFL: Andy Dalton throws three TDs as Cincinnati Bengals thrash Oakland Raiders
Andy Dalton threw three touchdown passes as the Cincinnati Bengals thrashed the hapless Oakland Raiders 34-10.
Last Updated: 25/11/12 11:34pm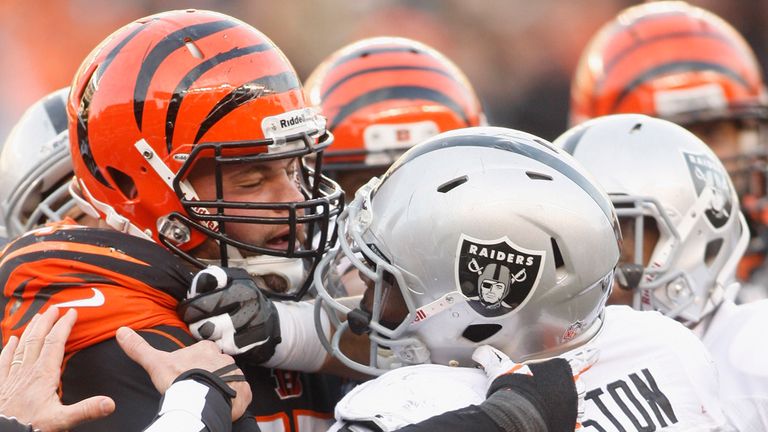 The win takes the Bengals (6-5) onto the same mark as AFC North rivals the Pittsburgh Steelers with wildcard play-off spots still very much up for grabs.
BenJarvus Green-Ellis ran for 129 yards and a touchdown against the NFL's most generous defence, tearing off runs of 48 and 39 yards to set up scores. AJ Green caught three passes for 111 yards.
A brawl in the fourth quarter resulted in Oakland's Tommy Kelly and Lamarr Houston and Cincinnati's Andrew Whitworth getting ejected.
Dalton was 16-of-30 for 210 yards with two touchdown passes to Mohamed Sanu and one to Jermaine Gresham as the Bengals took control 24-0 in a dominant first half.
Green-Ellis found a big hole on Cincinnati's third play of the game and ran a career-best 48 yards before getting shoved out at the one. Green-Ellis then carried the final yard into the end zone.
On Cincinnati's next series Sanu made a one-hand touchdown catch for a 14-0 lead before Dalton's five-yard touchdown pass to Sanu made it 21-0 midway through the second quarter.
Mike Nugent's 55-yard field goal tied the franchise record and put the Bengals up 24-0 before Sebastian Janikowski's 55-yard field goal ended the shutout in the third quarter and Palmer beat a blitz by lofting a 20-yard touchdown pass to Denarius Moore.
Gresham's score and a Mike Nugent field goal completed the scoring in the final quarter.