NFL: Robert Griffin III injured as Washington Redskins beat Baltimore Ravens in overtime
Washington snatched an overtime win against Baltimore - but Robert Griffin III left the game with a knee injury.
Last Updated: 10/12/12 2:44pm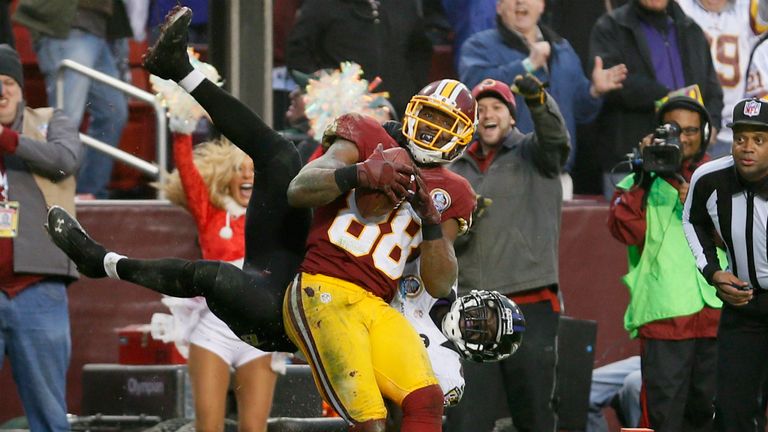 With the Redskins trailing 28-20 with just under five minutes remaining, Griffin sprained his right knee on 13-yard scramble. He left for one play, returned for four, but then was no longer able to continue.
Kirk Cousins, like Griffin a rookie, entered the fray for his second taste of NFL action and promptly found Pierre Garcon for a touchdown on an 11-yard pass.
Cousins then took the ball into the end zone himself on the quarterback option for the two-point conversion to level at 28-28.
Baltimore had first possession in overtime but were forced to punt and Richard Crawford returned it all the way to the Ravens' 24-yard line.
And Redskins kicker Kai Forbath made no mistake with a 34-yard field goal to complete the comeback.
The Ravens, who suffered back-to-back defeats for the first time since 2009, led 21-14 at half-time after quarterback Joe Flacco threw three touchdown passes - two to Anquan Boldin and one to Dennis Pitta.
Alfred Morris had a big day on the ground for the Redskins, finishing with 122 yards on 22 carries, including a first-quarter touchdown.
Forbath kicked a pair of third-quarter field goals before Ravens rusher Ray Rice scored from seven yards out on the ground with just over 10 minutes to play.
Washington improve to 7-6, tied with Dallas for second place behind the 7-5 Giants in the NFC East, while Baltimore drop to 9-4 but remain in control of the AFC North as second-placed Pittsburgh lost to San Diego.