NFL: Denver Broncos AFC top seeds with Peyton Manning beating Kansas City Chiefs
Denver Broncos finished as the top seed in the AFC after Peyton Manning led them to an easy 38-2 win over Kansas City.
Last Updated: 31/12/12 3:35am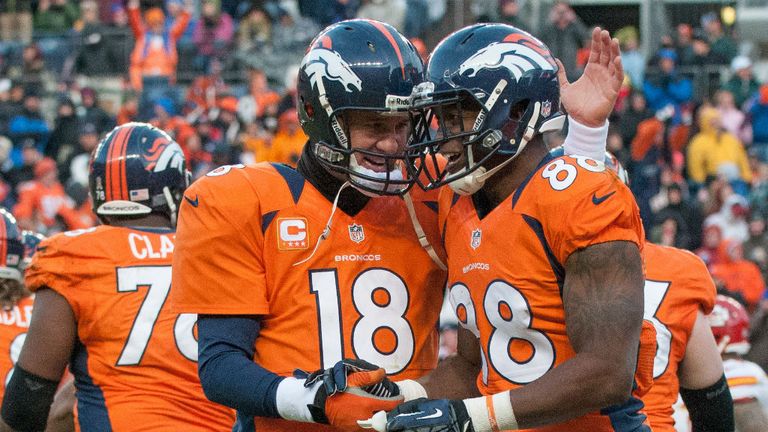 Manning's Broncos took advantage of a late slip-up by the Houston Texans to claim top spot in the AFC, a week off next week and also home field advantage throughout the play-offs.
Many had questioned whether the veteran's neck injury would stand up to the NFL on his return from a year out, but that question has been emphatically answered with an 11-game winning run to end the regular season.
Manning threw for 304 yards and three touchdowns as he ended a superb regular season just 41 yards short of his career best with 4,659 and in with a great shout of picking up a fifth MVP award - and a second Super Bowl ring.
A career total could have been carded by Manning had he played in the fourth quarter, but John Fox has bigger things on his mind with his Super Bowl favourites than risk his star quarterback against the Chiefs - who did nothing other than tie-up the first pick in the draft as the worst team in the league.
Eric Decker caught two touchdown passes - one an impressive one-handed grab that was replicated by Demaryius Thomas, and with two sure-handed receivers Manning has shown he is still as good as ever.
The veteran has been far too wily for his AFC East rivals - especially the Chiefs who finished 2-14 for the season and amassed just over 100 yards at Mile High with quarterback Brady Quinn throwing for a laughable 49 yards.
With Manning and a steady defence, Denver also has the running game going now Knowshon Moreno has started to show up, and he ran in another TD as did Lance Ball who led the way with 66 yards from 15 attempts.
Ryan Succop's 23-yard field goal brought up Kansas City's only points of the game, and after completing a 7-1 home schedule nobody will fancy the trip to altitude at Mile High to face Manning's men in the play-offs.
With a week off to rest before possibly two huge home games, Denver will be thinking their own play-off trip could be the one to New Orleans for the Super Bowl ion February.