Robert Griffin III facing long road to recovery from serious knee injury
Washington face an anxious wait to find out whether Robert Griffin III will be available to start next season.
Last Updated: 09/01/13 7:32am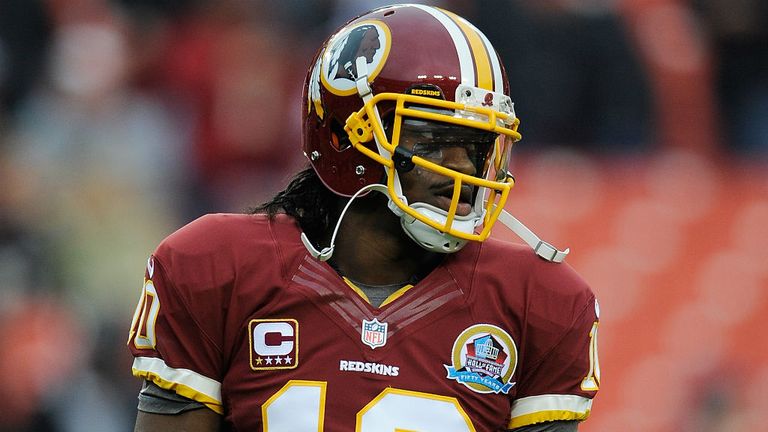 Griffin is expected to have surgery on his knee later this week after re-injuring it in their play-off defeat by Seattle on Sunday, and there are reports that he has torn lateral and anterior cruciate ligaments.
Redskins coach Mike Shanahan has been criticised for his handling of the star rookie, who was first hurt in week 14 against the Baltimore Ravens, missing one game before returning for the last two of the regular season.
But he was wearing a heavy knee brace during Sunday's game at FedEx Field and his usual run-heavy style was badly impacted - at times it appeared he could barely move.
When Griffin's knee took another bad turn late in the fourth quarter, Shanahan finally took him off the field and replaced him with back-up Kirk Cousins.
Griffin will be examined, and operated on, by renowned surgeon Dr James Andrews, who managed to get running back Adrian Peterson back on the field for a momentous 2012 season after serious injury last year.
Michael Jablonski, a former team physician for the Orlando Magic, told Yahoo Sports that such an injury usually takes eight to 12 months to return from and the patient has to feel as strong and stable as before to even think about coming back.
"When you have someone like RG3, you can use Adrian Peterson as a motivational tool," Jablonski said.
"There's no question you can look at him and say it is possible. But on the other hand, there are certainly examples of athletes who didn't get back. You just have to be realistic with the patients. You might need more than one surgery.
"When [Dr. Andrews is] in there, he's going to look at the ACL. With these partial tears, he's going to make a decision. If it needs to be fixed, he will do everything at the same time.
"If someone has had an ACL that's been torn, it certainly makes a difference. If somebody has had an ACL tear, you have to deal with having scar tissue. You may have to find another source of tissue. It gets somewhat complicated."