NFL Divisional Round preview: Houston Texans v New England Patriots
Can Houston get over their previous hammering by the New England Patriots as they return to Foxborough in the play-offs?
Last Updated: 12/01/13 8:07pm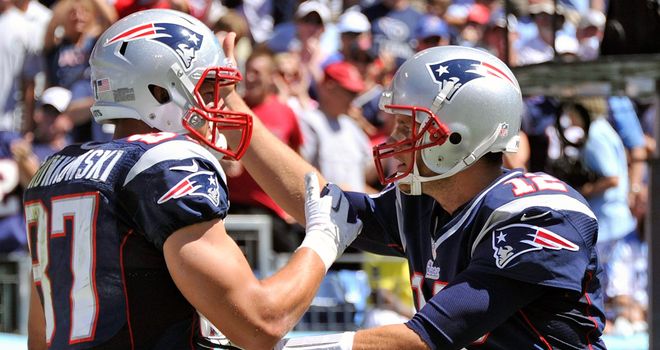 The Patriots battered the Texans 42-14 in their regular season meeting, and the three previous times New England have been the second seed in the AFC race they have ended up in the Super Bowl, so the omens all point the home side's way.
Will that be enough though? We run through what will be the deciding factors in this game.
Houston Texans @ New England Patriots
QB comparison
Tom Brady has been there and done it many times before, his 16 play-off wins are tied with Joe Montana for the most in history and he can break that with a win over Houston. Brady led the league's best-scoring offence with the Pats averaging 34.8 points a game and he is 10-2 as a starter at home in the play-offs, so you have to think he will be coming out firing. His opposite number Matt Schaub will be anything but going on his recent displays, which have seen him throw just one touchdown pass in his last five games - less than Terrelle Pryor! Schaub is playing in just his second post-season game and his first away from home - and even though he won last week he was hardly convincing and that win was more down to Arian Foster's rushing and Houston's defence.
Tight ends
Aaron Hernandez had eight catches for 58 yards and two touchdowns against Houston in their last game, but now the Texans have to deal with a fully fit Rob Gronkowski as well, as he missed that game with an injured arm. The Gronk is a beast in the red zone and almost impossible to cover once he gets loose - and the Pats love to play with both tight ends creating huge match-up problems for Houston. Gronkowski's injury was a large part of New England's Super Bowl loss last season, and he has shown his dominance this season with 11 TDs despite missing five games with injury. He has eight TDs in his last five games and is an almost certainty to score if he plays the full game - good luck covering him!
Sack attack
The virtual certainty to be Defensive Player of the year, JJ Watt, has been a beast for Houston this season, but he could not get at Brady enough in the first meeting between the teams to have a real influence. Even in the big games, you look at the last two Super Bowl defeats and a play-off loss against Baltimore, Brady can be hustled and harried out of his rhythm - so Watt in particular needs to get at him early and often. Houston made a mess of that in the first game but in Wade Phillips they have a wily defensive coordinator who is sure to have come up with some new plans to rattle Tom Terrific.
Clash of styles
These two very different teams will be trying to impose their will on the opposition and the winner of that battle could well decide who goes through to the AFC title game. Houston will want to run the ball with Foster and keep Brady off the field as much as possible, while the Patriots will want a fast start after their week off to try and catch the Houston defence cold. If the Pats start quickly and Brady gets the hurry-up offence working then Houston will fall behind quickly - forcing the ball into Schaub's hands more instead of their power running games, and as mentioned he has failed to find the end zone for some time now so that would be a worry.
Prediction
It won't or shouldn't be another blow-out win but with Brady and coach Bill Belichick there is a wealth of experience there in their two figure heads, there is also the league's most potent offence, possibly the most potent red zone threat (Gronkowski), all fresh of a bye week and at home. It's not hard to pick out the Patriots here and they should move a step closer to getting back to the Super Bowl.