Arizona Cardinals appoint Bruce Arians as new head coach in NFL
The Arizona Cardinals have appointed veteran Bruce Arians as their new head coach.
Last Updated: 23/01/13 8:40pm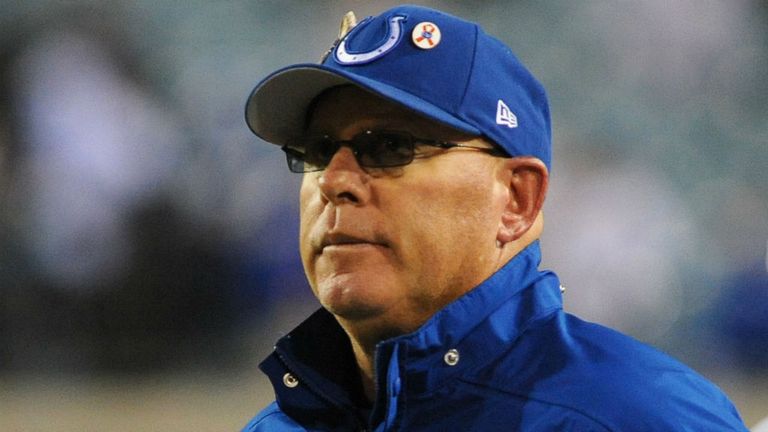 The 60-year-old completed the final move to fill the gaps left by the coaches who departed after the 2012 regular season finished, with the Cardinals the last appoint a replacement for Ken Whisenhunt.
Arians got a taste of head coaching this season when he led the Indianapolis Colts to a 9-3 record whilst standing in for Chuck Pagano as he received treatment for leukemia, with the Colts making the play-offs with a young team full of rookies.
The Cards signed Arians on a four-year contract as he tries to rebuild a team that came so close to winning the Super Bowl in 2009 when they were beaten in the final seconds by the Pittsburgh Steelers - who had Arians as their offensive coordinator.
During eight seasons with the Steelers Arians picked up two Super Bowl rings and he hopes he can get Arizona back to challenging after a couple of seasons in the wilderness.
"A short time ago, this organization was 37 seconds away from the Super Bowl trophy," Arians said. "I just happened to be calling plays on the other side, got real lucky, too. That's the excitement that we want to bring back. That's our goal and our only goal.
"I'm a straight shooter. I don't come home with any bullets left in the gun. I think players respect honest and discipline, and we're going to work hard. They're going to be accountable, not to me, to each other.
"It's not my football team. Our players will decide how good they are. It's their football team. If they want to win, we'll win. I'll show them the way. I'm no magic man. I've never tried to be."
Offensive woes
The Cardinals finished dead last in offence last season and lost ten out of their last 11 games to finish 5-11, with quarterback being their major problem position as in truth they have never really replaced Kurt Warner after he retired.
Kevin Kolb was brought in at great expense from Philadelphia but he has failed to shine so far, and if he wants to stay he may have to re-work his current contract that would hand him $9 million, plus a $2 million bonus, this year.
Kolb did miss most of last season with an injury, which was unsurprising after he suffered some brutal hits whilst being sacked 17 times in two games.
"I've seen Kevin. He can spin it," Arians said. "He's had his moments, and he's had some not-so-good moments, but he's also had the crap knocked out of him a few times.
"That's one thing I know is he's tough. He's proven that he's tough and that's a huge part of grit."
Arians will call the plays for the Cardinals' offence, and his previous record for working well with quarterbacks Peyton Manning, Ben Roethlisberger and Andrew Luck was a big draw for the Cards.