NFL: Adrian Peterson wins MVP and Offensive Player of the Year awards
Minnesota Vikings running back Adrian Peterson has been named the NFL's Most Valuable Player for the 2012 season.
Last Updated: 03/02/13 11:34am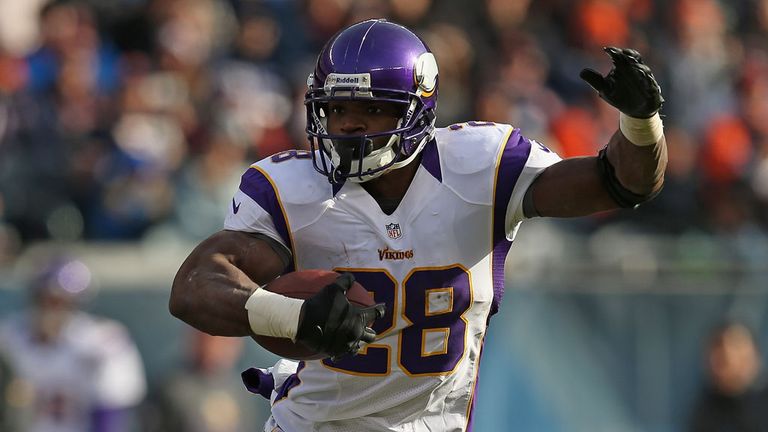 Peterson, who returned from a serious knee injury to carry the Vikings into the play-offs, also took home the Offensive Player of the Year award.
The 27-year-old missed out on breaking the single-season rushing record by just nine yards and becomes the first non-quarterback to be named MVP since LaDainian Tomlinson in 2006.
"I was definitely hoping to get to the Super Bowl. That was my goal. Come back, lead my team and help my team get to the Super Bowl," Peterson said.
"Unfortunately, that didn't happen. But I played my heart out every opportunity I had - (and) I got a couple of good pieces of hardware to bring back and stack in my statue area. So it feels good."
Houston Texans defensive end JJ Watt won the Defensive Player of the Year award after a remarkable campaign which saw him record 20.5 sacks and deflect 16 passes.
Growing
Watt said: "I can get a lot better, I'm only 23. I'm still growing as a human being, and as a person and as a player."
Denver Broncos quarterback Peyton Manning claimed Comeback Player of the Year honours after the future Hall of Famer rebounded from a year out through injury to lead his new team to the top seed in the AFC.
Manning said: "I really did not know what to expect. I had the double variables of coming off an injury, not playing for a year and joining a new team, a new system, new team mates.
"That certainly added a lot to my plate. So it was hard knowing what to expect."
Washington Redskins quarterback Robert Griffin III was given the Offensive Rookie of the Year award while Carolina Panther linebacker Luke Keuchly, who led the league in tackles, was named as the top defensive rookie.
Bruce Arians was named Coach of the Year after he stepped in to orchestrate a winning run for the Indianapolis Colts after Chuck Pagano was diagnosed with leukaemia.