Baltimore Ravens quarterback Joe Flacco signs biggest deal in NFL but just wanted respect
Joe Flacco insists his mega new deal was more about getting the respect he deserves than the whopping $120m price tag.
Last Updated: 05/03/13 10:14pm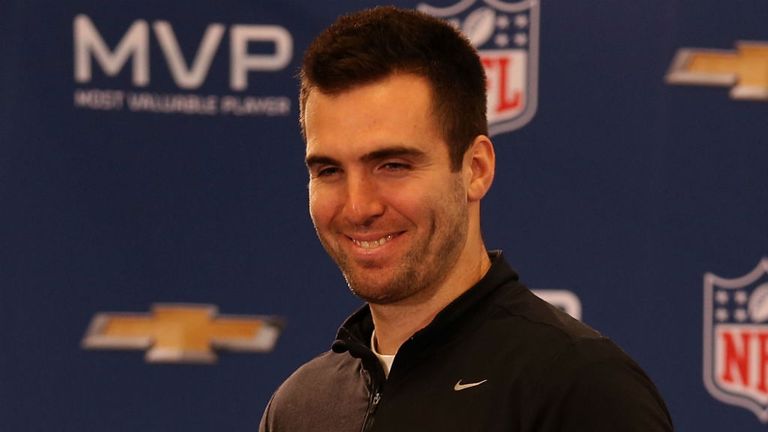 Flacco officially signed his six-year deal with the Super Bowl champions on Monday and he insisted that being the owner of the NFL's biggest contract was not what he set his sights on.
The Ravens quarterback turned down the offer of a new contract last year, believing he was worth more than the team had offered, and he showed them exactly why as he played out the final year of his contract.
Leading the team to the Super Bowl, and being named MVP of the win over San Francisco in New Orleans meant that he was always then going to cash in on a new contract, and the Ravens have responded.
Flacco has had mixed reviews throughout his career and raised eyebrows when he said last year that he deserved to be paid as much as any other quarterback, and now he says he has proved that to the team and earned the respect he craved.
"It means a lot, it was never necessarily about the money, more about earning the respect and feeling respected around here," Flacco said at Baltimore's facility.
"But having seen them do that it definitely feels like I've proven what I can do and that they appreciate what I've done around here and how I've played.
"It's not so much about the money it's about the respect. When you're out there on the field you're just trying to execute your plays. The last thing you're worried about how much you're getting paid."
Flacco explained why he turned down the deal last year, and insisted that he would still think he deserved the big deal even if Baltimore did not win the Super Bowl.
"I thought I was worth more (last year), I didn't see any other circumstance where I'd get more money than I was getting last year anyway so I thought I'd play another year see how it went and see if we could do something good last season," he added.
Respect
"I think I'm an asset to this team and I'm worth what I'm worth, and winning the Super Bowl just adds to that, but if we didn't win the Super Bowl I still think I'd be worth the same.
"It makes it a bit easier for Steve (Bisciotti, Ravens owner) to reach in his pockets now that we've won the Super Bowl, they won't look as crazy at him as they would had we not won the Super Bowl, but I still think even without the Super Bowl I'd offer this team the best chance to win."
Flacco had been hanging out in Las Vegas whilst his agent was brokering his new contract, and although thrilled he said he did not make being given the biggest contract in the league his priority.
"It's not a priority of mine to be the highest paid guy in the league, it was just to get ye respect that I have got now from this organisation.
"It was never one of my goals, honestly, it's pretty sweet that that's now the case but it's all about winning games and winning Super Bowls, this part of it hasn't really sunk in yet."