NFL: Robert Griffin III return still unknown as Washington Redskins play it safe
Washington Redskins boss Mike Shanahan says they will not rush Robert Griffin III back into action for September.
Last Updated: 19/03/13 8:10pm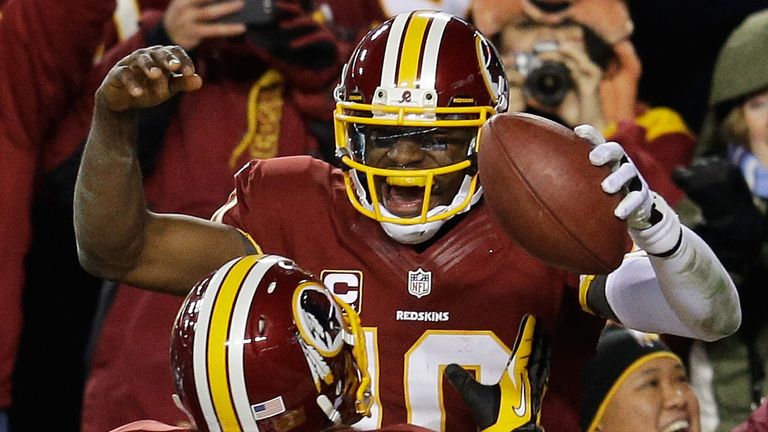 RGIII had surgery at the start of January to rebuild knee ligaments after he limped out of Washington's play-off loss against the Seattle Seahawks after bravely trying to play through the injury.
Although Griffin's doctor has stated he is ahead of schedule in his recovery, after taking criticism for keeping Griffin in the game whilst obviously injured, Shanahan will be taking no chances on his long-term fitness.
Perhaps helping the situation is the fact that fourth-round pick Cousins also looked like a talented quarterback when he stepped in for Griffin last season - closing out a win over eventually Super Bowl winners Baltimore and playing well when starting in the win against Cleveland.
So, although Shanahan would love to have Griffin fit and ready to go for September, he insists they are planning for life without him and says he will not be on the field until he is ready to go.
"You're hoping he's ready, but you can't plan for him to be ready," Shanahan told the NFL Network. "Kirk Cousins will work at the quarterback position. He'll have all the reps in the off-season.
"Robert will have a lot of reps, but it'll be mental. It'll be in the film room, watching people on the practice field, doing his rehab. But you can get a lot done mentally as well.
"As Dr. Andrews stated, he is ahead, but there's a process that takes time. Any time you deal with a knee or deal with ligaments, you can get the muscles stronger around it, but it does take some time.
"Robert will do it the right way, and we'll find out in July exactly where he's at."
Shanahan was also quick to alleviate any fears Redskins fans might have about Griffin losing a step due to his injury and not coming back quite as explosive as he was in his fine rookie season.
"Oh, he'll be at the 100 percent level," Shanahan said. "The big question you just asked is 'when?' I don't think anybody knows that until he goes out on the practice field, and you can evaluate him on a day-to-day basis.
"If hard work has anything to do with it, he'll set a record for coming back, because that's how hard he works."
To avoid any further serious injuries, Shanahan plans to talk to Griffin about his cavalier running style, saying he needs to protect himself a bit more as a valuable member of the team.
"The thing I have to convey to Robert is when to slide, when not to take a hit. These quarterbacks are so competitive, but they don't realise sometimes how valuable they are to your franchise."