NFL: Tony Romo signs six-year contract extension with Dallas Cowboys
Tony Romo will become the highest-paid player in Dallas history after signing a six-year extension to his contract.
Last Updated: 30/03/13 12:52pm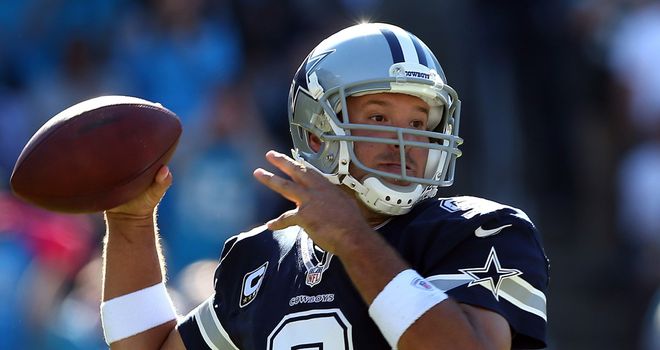 The quarterback has agreed terms on a new deal worth $108m, with $55m guaranteed and a $25m signing bonus.
The new contract commits him to the Cowboys until the 2019 season, when he will be 39, and the guarantee tops the $52m handed to Baltimore quarterback Joe Flacco as part of his six-year, $120.6m extension.
Cowboys owner Jerry Jones dismissed criticism of the figures involved for a 32-year-old, and he said: "We are very confident in this investment and commitment."
Romo added: "Our goal is the Super Bowl, and I am determined and honoured to be the guy in this position to help our team do that."
Romo was due to earn $16m against the salary cap next season, but the new deal reduces that figure to $11.8m and allows Dallas to make key new signings.
The Cowboys were determined to tie him to a new deal during the off-season or risk him being becoming a free agent at the end of the 2013 league year.