Lawrence Okoye hopeful of securing a contract in the NFL
British discus thrower Lawrence Okoye hopes to land a contract in the NFL before returning to athletics later in life.
Last Updated: 31/03/13 5:36pm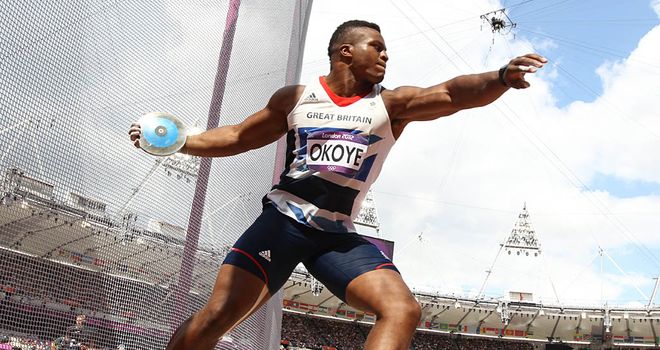 The 21-year-old, who finished 12th in his final at London 2012, caught the eye of several NFL teams at a training combine in Atlanta and has been handed a second chance to shine.
Okoye played rugby union for the London Irish academy and believes he has what it takes to compete in American Football as well, although he says the move would only be a short-term one and his intention is to return to athletics in the future.
"I came over to the States for warm-weather training for my discus," Okoye said. "When I saw that there was an American Football regional combine taking place in Atlanta, I applied online. And when I passed, I went along.
"At the combine, I really stood out because of my size, strength and speed. I don't want to sound arrogant, but I was good on the day - to the point that a lot of NFL clubs began talking to me immediately on the back of it. They all see me as a defensive end, which suits me just fine.
"I've had some meetings since, and done some private workouts with some clubs, too, and already they are talking to me about contracts even before the Super Combine in Dallas. I'm talking about some of the best known and biggest teams.
"From my mid-teenage years everyone kept telling me to give American football a go, and I thought about applying for an American college scholarship when I was 16.
"I've always been a huge NFL fan for as long as I can remember and whenever I've arrived in the States the customs officers always ask me who I play for. I want to give this my best shot. It's a rare life opportunity.
"But I do not intend to quit athletics completely. The best age to be a discus thrower is your late 20s to around the 30-mark. In the Olympic final that was the average age, even though I was 20. I fully intend to return to throwing the discus when my hopeful football career ends, which could well be around the same time.
"I accept that some may question whether I can ever stick at one thing. I was good enough to be a rugby player, and I am good enough to be an international athlete, but American football has always been a dream for me... and I'm almost there."