NFL: Green Bay quarterback Aaron Rodgers signs new contract with the Packers
Green Bay have confirmed quarterback Aaron Rodgers has signed a five-year contract extension thought to be worth $110m.
Last Updated: 29/04/13 10:48am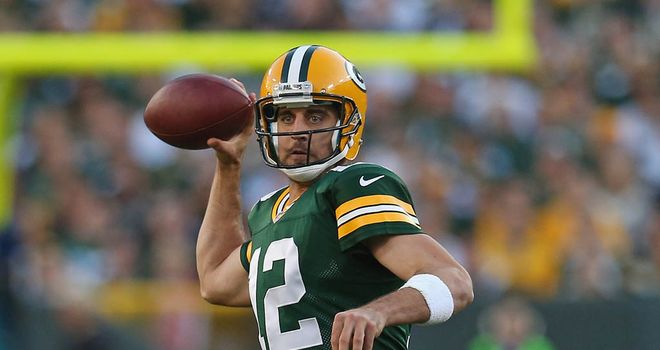 The Packers did not disclose terms of the deal, but the star quarterback is believed to have agreed terms on a new five-year contract worth $110m, which would make him the highest-paid player in NFL history.
The 29-year-old, drafted by the Packers in the first round of the 2005 draft, has set several benchmarks since taking over from the legendary Brett Favre in 2008.
His career passer rating of 104.9 is the highest in NFL history among quarterbacks with at least 1,500 pass attempts, while his interception percentage is also a league best.
Since making his debut as Favre's back-up in 2005, Rodgers has completed 1,752 of 2,665 passes for 21,661 yards and 171 touchdowns with just 46 interceptions.
He led the Packers to the Super Bowl in the 2010 season and was named MVP as the Packers clinched the NFL title with a 31-25 win over Pittsburgh.
Rodgers has been a Pro-Bowl selection in three of the last four seasons, and he has already broken four of Favre's single-season records for a quarterback.
"Aaron is a true professional and a special player," said Packers general manager Ted Thompson. "He works hard, is humble, and is focused on his actions, on and off the field.
"He is an excellent teammate and pushes himself and others to be the very best. We are happy to reach an agreement to extend his career with the Packers."
Packers coach Mike McCarthy added: "It's an exciting day for our football programme. Aaron is an excellent illustration of a Green Bay Packer.
"It is truly a blessing to witness his continued accomplishments, both on and off the field."