NFL: Rob Gronkowski facing surgery but Tom Brady better than ever
There's mixed news for New England as Tom Brady feels better than ever but Rob Gronkowski needs a fourth arm operation.
Last Updated: 20/05/13 6:36pm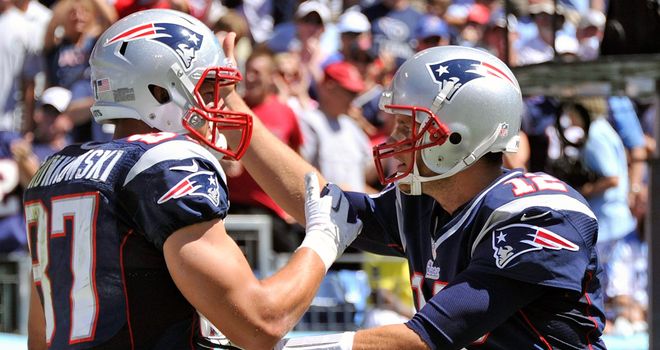 The Brady-to-Gronkowski combination is one of the most dominant in the league, with the big tight end's power and size coupled with Brady's accurate throwing making them almost unstoppable at teams.
New England lost the 2012 Super Bowl to the Giants when Gronkowski was limited, and he was missing as they lost the AFC Championship game against eventual champions Baltimore last season.
Gronkowski originally broke his forearm in November but broke it again after returning, and he now has to go under the knife for a fourth time due to a persistent infection.
There are also reports that Gronkowski is struggling with a back injury that, although not too serious, could require minor surgery but is not related to the back procedure he underwent in 2009.
Brady boost
If Gronkowski is forced to miss playing time, it will be a big blow to the Patriots offence and Brady in particular - who may be 36 by the start of his 14th season in September, but says he feels better than ever in his early preparations for the new campaign
"Going into my 14th year, I have never had more confidence in how I am throwing the football," Brady told Sports Illustrated. "I've never felt better throwing the football."
Many questioned how Brady would react after his big knee injury in 2008, but since then he has averaged a passer rating of over 102 with 34 touchdowns and 4,590 yards per season.
Working on his throwing mechanics is key to Brady's success, and after the death of his mentor Tom Martinez, Brady has brought in former MLB pitcher Tom House to help him with his basic throwing.
"I owe so much to Tom Martinez," Brady said. "He taught me so much about how to play the game and throw the football. I found Tom House, and really developed a rapport with him quickly.
Learning
"I've learned, and to me, the learning process is fun. The same way Tom Martinez was always there to watch and give me corrections, Tom House has told me why certain corrections need to be made.
"Look at a baseball swing and a golf swing. It's all mechanics. Look at how Barry Bonds swings. Look at how Floyd Mayweather punches. Mechanics. When you've got to fit it into the tightest windows, mechanics are crucial.
"And to me, the off-season is crucial. If you make a throw within four feet, that's not going to be good enough. You have to make the throw within four inches of your target. That's good enough.
"And that's why the mechanics you adjust and learn in the off-season are important. You're going to keep them during the season."
Brady seems fully zoned in already even in May, but he'll be desperate to have Gronkowski there catching these perfectly thrown passes if the Pats have designs on yet another Super Bowl appearance - and in New York of all places.