NFL: Andy Reid returns to old team in Kansas City Chiefs v Philadelphia Eagles
Andy Reid makes an emotional return to Philadelphia in our live Thursday NFL game as the Chiefs face his former Eagles.
Last Updated: 19/09/13 11:21am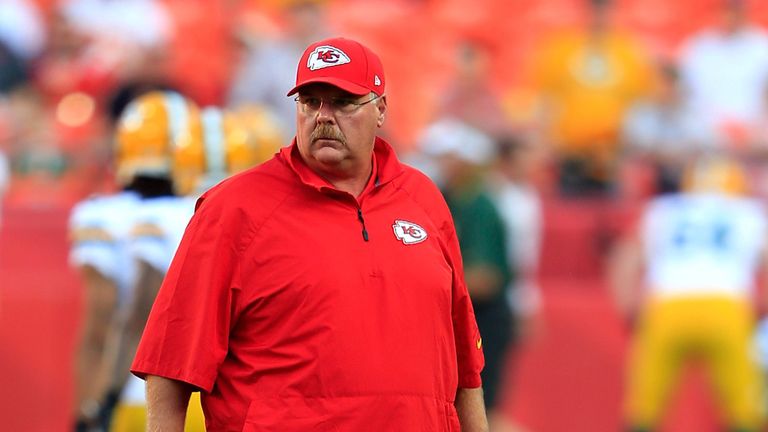 Reid spent 14 largely successful years as head coach of the Eagles, making the play-offs nine times in total and appearing in five NFC Championship games and one Super Bowl.
It all turned sour for Reid last season as his expensively assembled outfit could only return a 4-12 record but it will still likely be a highly emotional return to his home for so long.
Reid, though, insists he is focusing purely on the coaching aspects as he tries to lead his new team to a 3-0 start on a short week against a high-flying Eagles offence lead by new coach Chip Kelly.
The former Oregon coach has brought in his high-tempo offensive system and although they have started 1-1 they have scored 63 points and totalled 954 yards in just two games.
Business
"In this business you're focused in on getting your team ready to play," Reid told the Chiefs' website. "That's where my energy is going to go. I haven't really thought about that other part at all.
"I don't necessarily plan on thinking about that. I want to make sure I concentrate on the game at hand and anything else becomes a distraction and I'm not going to let that happen.
"Every coach tells you these Thursday nights, it's a quick turnaround, and you just have to go. It's something you have to do. You buckle down and make sure you get it done."
Reid has already led the Chiefs to as many wins as they got all last season, with new quarterback Alex Smith settling in nicely and leading them to a fine win against Dallas on Sunday.
The Chiefs have been fearsome in defence so far this season, conceding just 18 points, but this unit will be severely tested by Kelly's men, with quarterback Michael Vick, running back LeSean McCoy and wideout DeSean Jackson.
Numbers
They've all put up gaudy numbers in the first two games under Kelly - Vick has 631 yards and four TDs, McCoy has 237 yards rushing and 119 yards receiving, while a rejuvenated Jackson has 297 yards and two TDs already.
Despite the prolific yardage, the Eagles still lost to the San Diego Chargers last time out so while they still need some refining they will be a constant threat to the Chiefs and will be keen to get one over on their old boss, despite Vick still holding him in high regard.
"I'll never forget the opportunities given to me by this organization and by Andy Reid," Vick said. "That will never change.
"It's different, it's definitely different, knowing coach Reid is on the other side. Andy Reid is a man who will go down in history, in my book, as one of the greatest coaches of all time and one of the greatest men I've ever met."
Those sentiments were echoed by Jackson, who added: "Coach Reid is a father figure to me. He's a great guy, and we've been keeping in contact throughout the off-season and the preseason. He texted me after last week's game, so it's going to be great to see him come back."