NFL: Denver Broncos, Cincinnati Bengals and New England Patriots secure division titles
Peyton Manning broke the NFL's single-season touchdown record as Denver Broncos secured the AFC West title.
Last Updated: 23/12/13 6:15pm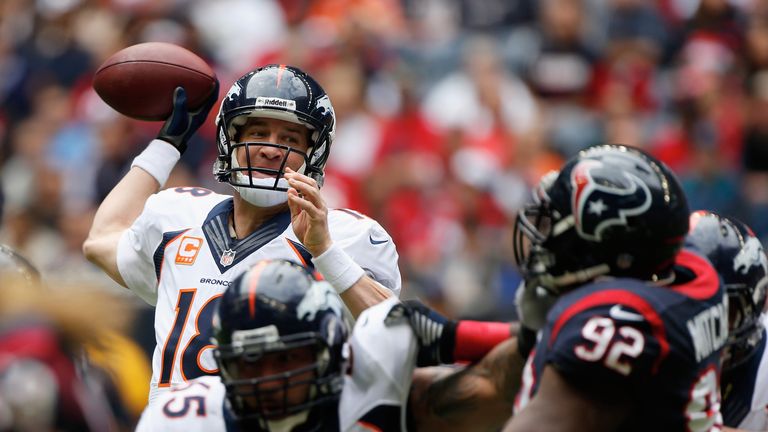 Manning's four touchdown passes at Reliant Stadium took him to 51 for the season, surpassing the mark set by Tom Brady in the 2007 season.
The 12-3 Broncos are on the road in Oakland in the final week of the regular season and need another victory to be certain of the AFC's top seed and home-field advantage throughout the play-offs.
Manning, who threw three of his touchdowns in the fourth quarter and finished with 400 yards through the air, needs another 266 passing yards to break Drew Brees' record from 2011 of 5,476 in a season.
Kansas City Chiefs' 23-7 defeat at Indianapolis Colts handed the Broncos their third straight division crown - and means the Chiefs (11-4) will be fifth seeds in the AFC regardless of what happens next week.
The Patriots were confirmed as AFC East champions for the fifth year in a row when Miami Dolphins went down 19-0 at Buffalo Bills.
The Dolphins, who drop to 8-7 but can still make the play-offs as a wildcard, managed just 103 yards of offence and six first downs.
Cincinnati Bengals clinched the AFC North title after they won in Sunday's early tranche of games and Baltimore later lost to New England.
Bengals quarterback Andy Dalton threw for 366 yards and four touchdowns - including two to AJ Green - during a 42-14 demolition of Minnesota Vikings.
Romo strikes late
Tony Romo kept Dallas Cowboys' season alive by leading a nine-play, 87-yard touchdown drive late in the fourth quarter of their 24-23 victory at Washington Redskins.
On fourth-and-10 at the Washington 10-yard line with just over a minute left on the clock, Romo hit running back DeMarco Murray with a 10-yard pass after escaping from pocket pressure to extend the play.
The Cowboys (8-7) host Philadelphia Eagles next Sunday in a winner-takes-all showdown for the NFC East title.
And the Eagles sent out an emphatic statement ahead of that clash by inflicting a 54-11 thrashing on Chicago Bears - a loss that meant the Bears missed the chance to clinch the NFC North title and play-off spot.
That result meant that Green Bay live to fight again after they lost a 38-31 thriller against Pittsburgh Steelers at a freezing Lambeau Field. The Packers and Bears will now clash at Soldier Field next week with a play-off place and division title on the line.
The win also amazingly sees the Steelers remain in the wildcard hunt, although they need a win next week and a lot of help to pinch that final AFC spot.
Seattle sunk
Arizona Cardinals caused a big upset as they ended Seattle Seahawks' 14-game winning streak at home with a battling 17-10 success at CenturyLink Field thanks to a late Michael Floyd touchdown grab.
Arizona remained in the play-off hunt with their first win in Seattle since 2009 in what was not a classic but a hard-hitting clash of defences. The 12-3 Seahawks will try again next week to tie-up home field advantage in the play-offs.
San Diego Chargers are still in there fighting for an AFC wildcard after beating Oakland Raiders 26-13, but Detroit Lions are out of the NFC hunt after they lost in overtime to New York Giants.
In games with no play-off implications, Geno Smith threw two touchdowns and ran in another to inspire New York Jets to a 24-13 success at home to Cleveland Browns and Zac Stacy had 104 rushing yards in St Louis Rams' 23-13 win against Tampa Bay.
And Tennessee Titans ended a three-game losing streak with a 20-16 triumph at Jacksonville Jaguars, guaranteeing they will finish second in the AFC South.