NFL wildcards: Andrew Luck leads Indianapolis Colts to amazing comeback against Chiefs
Andrew Luck led the Indianapolis Colts to a 28-point comeback to stun the Kansas City Chiefs in a 45-44 play-off win.
Last Updated: 05/01/14 10:55am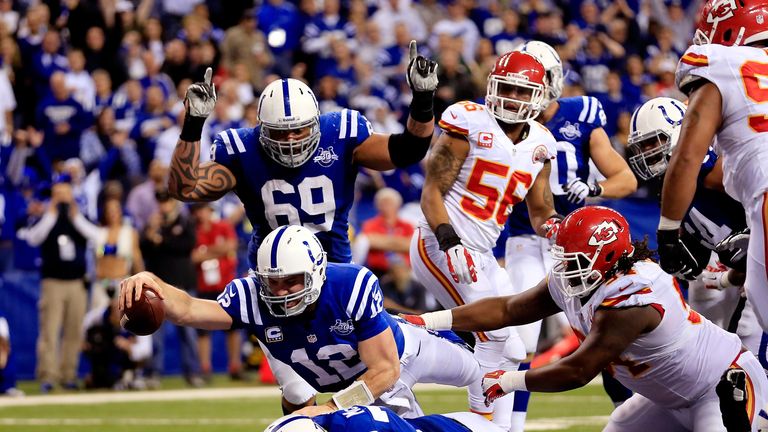 It was a horror show from the Colts in the first half as they committed three turnovers and Alex Smith and his Chiefs scored four touchdowns and a field goal to lead 31-10 at half time.
Luck started the second half as he ended the first, with an interception, and the lead was stretched to 28 points as Knile Davis scored his second touchdown after coming in for the Chiefs' star man Jamaal Charles, who went down early with concussion.
Donald Brown then scored back-to-back touchdowns and Luck, who finished with 443 yards passing, four touchdowns and three interceptions, was like a man possessed, as he scored a fortunate rushing TD himself to cut the lead to 44-38.
A Chiefs field goal meant the Colts trailed by six with five minutes left, but after just 75 seconds Luck threw a 64-yard TD to TY Hilton as the Colts took the lead for the first time in the game - and their defence finally showed up to ensure that's how it stayed after a breathless wildcard game.
Flying start
It was a flying start from both teams, with the Chiefs holding the ball for almost seven minutes on the opening drive of the game that saw them go 82 yards in 14 plays, despite losing star man Charles on just the sixth play of the game.
Smith hit Bowe on a six-yard TD pass, but Luck responded superbly with a seven-play drive of seven straight passes for 74 yards and a ten-yard touchdown throw to TY Hilton.
Ryan Succop added a field goal after a fine goaline stop by the Colts defence, but they then let former Colts receiver Donnie Avery get completely clear for a 79-yard touchdown before Colts running back Trent Richardson fumbled on his very first touch, which led to another Chiefs TD for full-back Anthony Sherman.
Two TDs in 99 seconds for the Chiefs knocked the stuffing out of the Colts, and although Luck did his best with a fourth-down run to keep the next drive going, they had to settle for a field goal.
Kansas City responded with their fourth touchdown of the half, and Luck was then intercepted by Brandon Flowers, which just about summed up the half as the hosts went in trailing 31-10 at half time.
Picked off
Whatever was said at half time went quickly out of the window for the Colts as Luck started as he left off, with an interception on his very first pass of the half, and again the Chiefs had few problems turning that into another seven points with Davis catching a ten-yard TD just three plays later.
The Colts staged their huge revival in the third quarter though, as Brown went in for back-to-back touchdowns before a third Luck interception of the game - he had only thrown nine in the regular season - cost them a field goal.
Luck was playing like a man possessed though and led an 80-yard drive at the end of the quarter, capped off with a 12-yard strike to tight end Coby Fleener and, as the game entered the final quarter, a 28-point lead was down to just ten.
Then a huge slice of Luck, literally, as Brown fumbled the ball at the goal line, only for the Colts quarterback to gather the rebound and dive over a pile of bodies for the score.
The Chiefs kicked a field goal, leaving Luck trailing by six points with just over five minutes to play, but just 75 seconds later he launched a 64-yard bomb to Hilton that put the Colts ahead for the first time, and their defence then finally made a stop to send them through after a crazy wildcard game.