NFL wildcards: New Orleans Saints beat Philadelphia Eagles in play-offs
A late field goal gave New Orleans Saints their first ever play-off road win with a tight 26-24 victory in Philadelphia.
Last Updated: 05/01/14 11:01am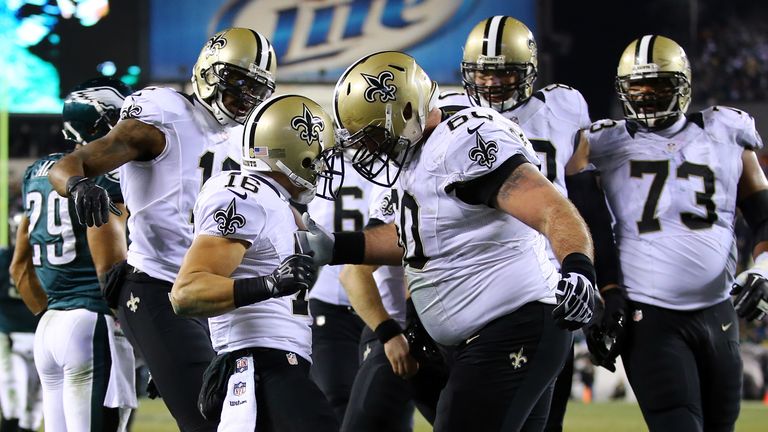 Although both teams had top-five offences, it was defence that was largely on top, but the Saints just managed to eke out enough to get over the line for a first play-off win on the road in six attempts.
Quarterback Drew Brees threw two interceptions but also one touchdown and marshalled his side well in the second half, behind a surprisingly impressive running game that yielded 185 yards rushing and one Mark Ingram touchdown.
Tight end Jimmy Graham was largely shackled, as were the Eagles' high-flying offensive duo of LeSean McCoy and DeSean Jackson, although McCoy did find the end zone as the Eagles scored three TDs to New Orleans' two.
The Saints built up a 20-7 lead in the third quarter, but the Eagles hit back to take a one-point lead with five minutes left to play.
However, one final drive from Brees and a Graham field goal sent the Saints through to the next round, where they face a testing trip to Seattle.
Defensive start
In a game involving two of the top five offences in the league, it was a cagey defensive battle to start off with, with no score in the first quarter and with Brees being picked off.
The Saints kicked a field goal in the second quarter but on their next possession Brees was intercepted a second time, and the Eagles took advantage by going 44 yards for the opening touchdown of the game through Riley Cooper.
Shayne Graham kicked a second field goal for the Saints to make it a one-point game at half time, and they emerged for the third quarter looking a much better side.
Foles was sacked just after a penalty and those negative plays gave Brees the ball near midfield. He took full advantage, leading a six-play drive which finished when Lance Moore grabbed a 24-yard TD with his first catch of the game.
They repeated the dose on their very next drive and it was classic Saints football with Brees hitting Kenny Stills and Ben Watson on two big completions before Ingram took over on the ground and barged his way into the end zone from four yards out for 20-7.
Response
Philadelphia responded straight away though as their playmakers finally made an impact, DeSean Jackson catching a 40-yard pass, his first of the night, before McCoy punched it in from a yard out.
A quick stop on defence saw the Eagles steal away the momentum and a field goal made it a three-point game at 20-17.
The hosts then restricted the Saints to a field goal on the next drive which left them just six behind with eight minutes left.
The Eagles then got their noses in front after a huge pass interference call against Corey White on Jackson gave them the ball on the three-yard line, and from there Foles easily hit tight end Zach Ertz for a one-point lead.
Straight from the kick-off though, the Eagles shot themselves in the foot, Cary Williams penalised for a horse collar tackle on returner Darren Sproles, which gave Brees the ball near midfield.
From there the Saints edged forward to eventually set-up a 32-yard field goal attempt as time expired, and Graham slotted it with ease to send them through to an even tougher road assignment in Seattle.