NFL wildcards: San Diego Chargers claim 27-10 road victory over Cincinnati Bengals
The San Diego Chargers claimed a 27-10 road victory over the Cincinnati Bengals in their wild card play-off showdown.
By Mark Kendall - Twitter: @SkySportsMK
Last Updated: 06/01/14 7:00am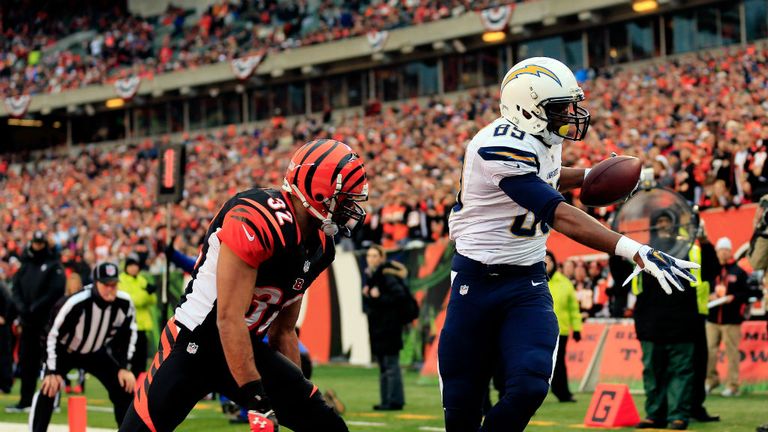 The Bengals headed into the game with a perfect 8-0 home record, but faltered when it mattered most and remain without a post-season victory in 22 years - the longest streak in the NFL.
They looked well-positioned to end that run as they came from behind to earn themselves a 10-7 half-time lead, but a series of mistakes from quarterback Andy Dalton after the interval saw their hopes slide away.
Dalton actually finished with over 300 passing yards, but two interceptions and a momentum-shifting fumble - all coming in the second-half - would cost them any chance of advancing.
Having been forced to punt on their first possession, San Diego made full use of the football second time around with QB Philip Rivers orchestrating a superb 12-play 86-yard drive that saw them hit the front towards the end of the first quarter.
It culminated in a powerful five-yard touchdown burst from diminutive running back Danny Woodhead with Nick Novak adding the extra point to ensure a 7-0 lead.
Cincinnati hit back in the second with Dalton chalking up his first post-season touchdown after finding Jermain Gresham from four yards out despite being clattered from behind as he did so.
A confident Dalton then produced a huge 49-yard bomb which Marvin Jones reeled in down the left sideline just prior to the two-minute warning.
Bengals lead at break
Coming back at the 16-yard line, the Bengals looked poised to go in seven points to the good, only for Giovanni Butler to see the ball knocked from his grip after a short pass looked to have sent him on his way to the end zone.
The Bengals still managed to recover the ball and engineered a 46-yard field goal opportunity which Mike Nugent landed to send them in ahead at the break.
But that would be as good as things got for the hosts with San Diego proving much more efficient than their rivals as the rain began to fall at 'The Jungle' in the second half.
They got themselves back ahead with 6:46 left in the third when Rivers (12 for 16, 128 yards) lofted a perfect pass to Ladarius Green in the left corner of the end zone - the second year tight end proving too big and strong for the cornerback as he took a fine catch.
In trying to run for a first down, Dalton then came up with his fumble after sliding head first and spilling the ball into the waiting hands of Jahleel Addae and, although the Chargers were unable to convert third down from inside the 10, Novak kicked a field-goal to extend their lead.
It was similar story soon after as a pressurised Dalton this time threw a panicked pass that was picked off by Shareece Wright who almost ran the ball back for a touchdown with time running out at the end of the third quarter.
Again the Chargers had to settle for a Novak field-goal, extending the lead to 20-10, but their defence prevented an increasingly-rattled Dalton from making any real progress despite a number of chances in the fourth.
In the end, Chargers wrapped up victory when Ronnie Brown set off on San Diego's season-long 58-yard run to the end zone to extinguish Cincinnati hopes and secure a showdown with Peyton Manning's Denver Broncos next Sunday.