NFC Championship Game: San Francisco 49ers at Seattle Seahawks for place in Super Bowl
It won't be for the fainthearted when bitter rivals Seahawks and 49ers clash on Sunday for a place in the Super Bowl.
Last Updated: 16/01/14 4:27pm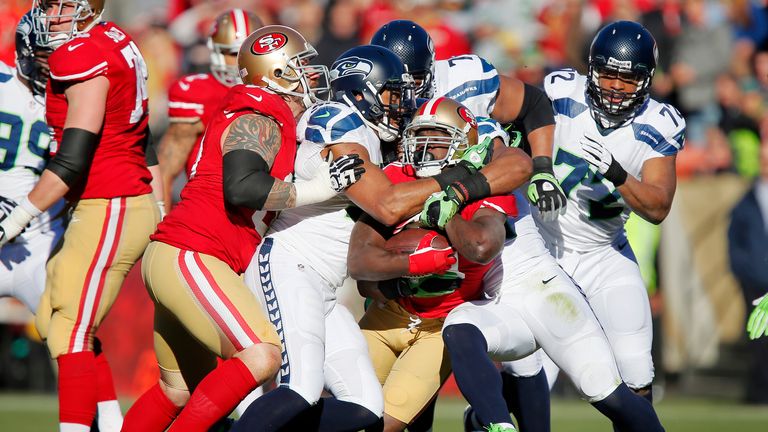 The NFC West has become one of the toughest and hardest divisions around, and these two teams know exactly what to expect as they meet for the third time this season - and with a spot in the Super Bowl on the line, neither will back down an inch.
This one, as they say, will be tasty, and this is a game every NFL fan needs to see.
Best of enemies
Familiarity breeds contempt as the saying goes, and that's the case with many a divisional match-up, but these two NFC West foes have built up an edgy, vicious rivalry that will make this game ten times your usual division game.
The fans dislike each other, the players dislike each other, even the coaches dislike each other, and they're never shy in mentioning that fact either. Both teams being such physical outfits helps with tat as well, and come Sunday these two will look each other squarely in the eye and punch each other smack in the mouth, maybe even literally.
Mirror images
These two teams are so similar, it will make for an intriguing battle. You have to be tough to survive in the NFC West these days, all four teams have hard-nosed defences, but these two have elite groups on that side of the ball.
The Niners showed last week they're not scared of getting in their opponents' faces, that's straight out of the Seattle playbook, they both have power running backs, mobile quarterbacks and fierce competitor coaches, it's like looking in a mirror, only not loving the reflection so much.
The QBs
Colin Kaepernick and Russell Wilson have their similarities also, Wilson you'd have to say is more consistent, but his stats have tailed off slightly towards the end of the season while Kaepernick has moved in the opposite direction.
Kaepernick is a more powerful runner, Wilson elusive, but the 49ers man has play-off form in the book, going 4-1 already in his short career and winning three on the road. He's been poor up in Seattle so far, but that's true of his old team, and he does seem to up his game in the play-offs, this one will be the ultimate test of that.
The noise
The '12th man' up in Seattle give them more of an advantage than any other NFL home stadium - that's proven by the Seahawks' record at home, the number of false starts visitors make and also the fact they've caused a small earthquake more than once.
Jim Harbaugh will be using lip reading and even sign language to get his message across during the deafening din that is CenturyLink Field. They will have the volume turned right up and San Francisco needs to handle that before anything else - although the Saints did have some success late on.
Clashing coaches
The width of a field may not be wide enough to separate these two once the game gets going, with two of the most passionate and animated coaches in the NFL having a history with one another that only serves to add another litre of lighter fluid on the fire ahead of this game.
Harbaugh is 6-3 against Carroll overall, and it was a victory for his Stanford over Carroll's USC that first saw them rubbing each other up the wrong way during their college coaching days. That's spread into the NFL with Harbaugh keen to point out Seattle's league-leading number of players being suspended for failing drugs tests.
Both have ability, Carroll has built what could be a dynasty up in Seattle as the NFC top seeds this year, while Harbaugh performed wonders with Stanford and has now led the 49ers to the NFC title game in his first three seasons - a history-making effort.
Verdict
This will be a street fight, make no mistake about it, and it is sure to be a close call in the end. Seattle have wonderful home form, but the 49ers have won two play-off games on the road and five in a row in all.
They have it all to do facing the top seeds, at home, but if any team can go to Seattle and get a win then it is the 49ers - they look like a team thirsty to avenge last year's Super Bowl loss and if they fire on all cylinders they can make it to New York by the toughest means possible.