NFL: New York Jets sign Michael Vick after releasing Mark Sanchez
The New York Jets have continued their high-profile recruitment drive with the signing of Michael Vick.
Last Updated: 25/03/14 9:26am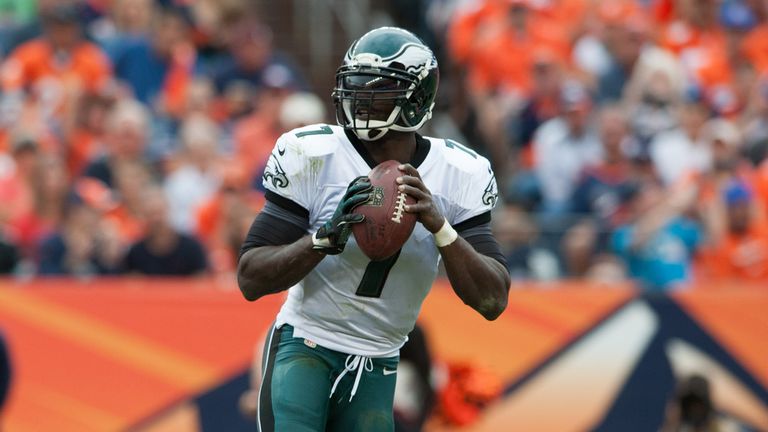 Just minutes after announcing that Mark Sanchez had been released, the Jets confirmed that Vick will compete with Geno Smith for the role as starting quarterback next season.
Vick lost his starting job at Philadelphia to Nick Foles last year and became an unrestricted free agent earlier this month.
The 33-year-old was fired by Atlanta in 2007 when he was jailed for 21 months for funding an illegal dog-fighting ring, but he revived his career after being signed by the Eagles in 2009.
Vick started 36 games for Philadelphia, throwing for 8,769 yards and 52 touchdowns, but a injuries and inconsistent form last season saw him replaced by Foles.
After signing for the Jets, Vick said: "It means a lot to have the chance to come in and play for a great organization that had a lot of success last year and being on the brink of doing some good things.
"Maybe I can come here and be an asset whenever my number's called. I'm excited, I'm elated, and I feel like this is a great opportunity for me and my family."
Jets offensive coordinator Marty Mornhinweg, who also coached Vick in the same role at Philadelphia, added: "We are excited to acquire Michael Vick.
"He's a great talent who's won many games, including playoff games, in this league. He has the respect of both his teammates and opponents.
"He's here in a role where he's going to compete and push Geno Smith to become the very best that he can be. Michael will be able to go in and play at a high level and a winning level if called upon."
Part company
Smith started all 16 games for the Jets in his rookie season last year, and the signing of Vick forced the club to part company with Sanchez.
The 27-year-old was due to collect a $2million bonus if he was still on the Jets roster on March 25, and he will now join the frantic free-agency market with immediate effect.
Sanchez led the Jets to the AFC Championship game in his first two seasons in the NFL in 2009 and 2010, but he managed only 13 touchdowns against 18 interceptions in a torrid 2012 campaign.
Suffering from a loss of form and confidence, Sanchez was replaced by Smith as the Jets starter last year and he failed to make a single appearance throughout the season.
Jets head coach Rex Ryan said: "I'd like to thank Mark for everything he's done for this team and me personally.
"We were rookies together and had some early success, becoming the first rookie head coach and quarterback to go to back-to-back championship games.
"We experienced a lot together and I really appreciate Mark. He's a great player, a great teammate, and I wish him nothing but the best."
Meanwhile, former Jets quarterback Greg McElroy has announced his retirement from the NFL at the age of only 25.
McElroy featured in only two games for the Jets in 2012 before being traded to Cincinatti, where he failed to make a single appearance.