AFC North - Guide to the off-season
We take a look at how each team is preparing for the draft
By Graeme Mair
Last Updated: 07/03/13 6:16pm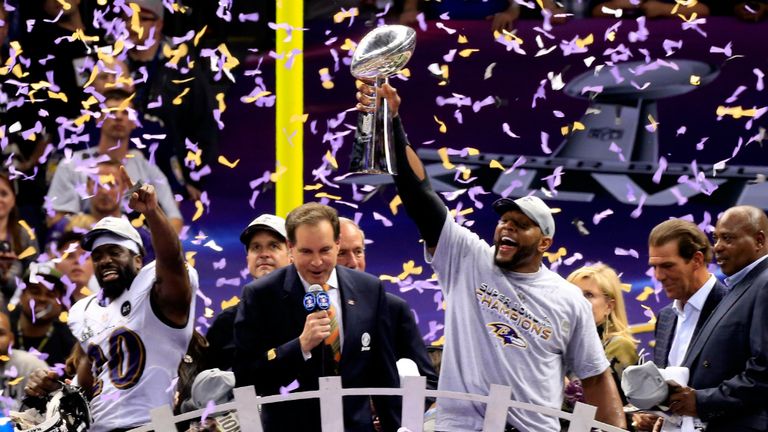 The draft takes place at Radio City Music Hall in New York from April 25-27 and prior to that there are lots of decisions to be made in front offices around the league.
Ahead of the draft, we're taking a division-by-division look at how things are shaping up, starting with the AFC North.
Baltimore Ravens
Last season: Super Bowl winners for the second time since the franchise moved to Baltimore in 1996. After winning the AFC North for the second year in a row with a 10-6 record, the post-season turned into the Ray Lewis retirement roadshow as the veteran linebacker returned from injury to help the team to wins in Denver and New England en route to a 34-31 victory over San Francisco 49ers in New Orleans.
Coaching changes: The major change on John Harbaugh's staff was made after the Ravens' week 14 defeat at Washington when Cam Cameron was ditched as offensive co-ordinator. Jim Caldwell, the former Indianapolis head coach, took over and the rest is history - a rejuvenated Joe Flacco leading them to the Super Bowl. Caldwell, unsurprisingly, has been retained in the role.
Unrestricted free agents: TE Billy Bajema, LB Ricky Brown, S Sean Considine, LB Dannell Ellerbe, QB Joe Flacco, S James Ihedigbo, CB Chris Johnson, DT Ma'ake Kemoeatu, DE Paul Kruger, DE Ryan McBean, OL Bryant McKinnie, S Ed Reed, CB Cary Williams
Salary cap: $9.9m under
Strategy: Getting a deal done with Flacco is the priority for the Ravens. Flacco's stock soared with his performances during the post-season and the Super Bowl MVP will be eyeing something similar to the five-year, $100 million deal Drew Brees signed with New Orleans Saints last year. The Ravens could use the franchise tag on Flacco but this would be problematic given how tight they are to the salary cap. The exclusive rights franchise tag for a quarterback would cost them in the region of $20m. The non-exclusive tag is a more manageable $14.6m but Flacco would be free to negotiate with other teams and the Ravens would have to match any offer or lose him for two first-round draft picks - a risky move. It is hard to see the Ravens being able to afford to keep many - if any - of their other free agents. Reed, who has been to the Pro Bowl nine times in his 10 NFL seasons, will almost certainly be able to make more money elsewhere.
Draft: Baltimore have a full complement of seven picks, the first two of which are the 32nd and 62nd. Much depends on what they do in free agency prior to the draft but the secondary is a clear area of need and linebacker depth will also be required if Ellerbe and Kruger depart.
Cincinnati Bengals
Last season: Lost at Houston in the opening round of the play-offs for the second year in a row after finishing second in the division and earning the second AFC wild-card with a 10-6 record.
Coaching changes: Marvin Lewis will return for an 11th season as head coach, making his tenure the second longest in the league after New England's Bill Belichick. Defensive co-ordinator Mike Zimmer again failed to land a head coaching gig of his own, so will also be back. Hue Jackson has been installed as running backs coach in place of the retired Jim Anderson.
Unrestricted free agents: K Josh Brown, CB Nate Clements, S Chris Crocker, DE Robert Geathers, DE Wallace Gilberry, QB Bruce Gradkowski, OL Clark Harris, LB Thomas Howard, P Kevin Huber, DE Michael Johnson, CB Adam Jones, LB Manny Lawson, RB Brian Leonard, LB Rey Maualuga, CB Terence Newman, K Mike Nugent, RB Cedric Peerman, OL Dennis Roland, RB Bernard Scott, DT Pat Sims, LB Dan Skuta, OL Andre Smith, WR Brandon Tate
Salary cap: $53.5m under
Strategy: Plenty of options as they have the most cap space in the entire league entering free agency. The defence was an elite unit last season but the offence was only middling and overly reliant on wide receiver AJ Green for big plays. Another downfield receiving threat to take some of the coverage off Green should be the priority, while the offensive line needs an overhaul after allowing quarterback Andy Dalton to be sacked 46 times during the regular season.
Draft: The Bengals are still benefiting from the Carson Palmer trade and will have an extra pick in the second round. That gives them three selections inside the first 53 and means they have the chance to find a long-term solution to their pass protection issues.
Pittsburgh Steelers
Last season: Lost five of their last seven matches to finish third in the division at 8-8 and miss out on the play-offs.
Coaching changes: None.
Unrestricted free agents: S Will Allen, QB Charlie Batch, WR Plaxico Burress, LB Larry Foote, OL Ramon Foster, DT Casey Hampton, LB Brandon Johnson, TE David Johnson, CB Justin King, QB Byron Leftwich, OL Doug Legursky, CB Keenan Lewis, RB Rashard Mendenhall, S Ryan Mundy, TE Leonard Pope, OL Max Starks, WR Mike Wallace, OL Greg Warren
Salary cap: $13.9m over
Strategy: The cap situation means most, if not all, of the Steelers' unrestricted free agents will leave, the biggest losses likely to be wide receiver Mike Wallace and cornerback Keenan Lewis. In addition, several veterans will have to be cut if they are not willing to restructure their contracts - former defensive player of the year James Harrison looks vulnerable in that regard - as Pittsburgh continue the process started last year of reducing the age of their roster.
Draft: A full complement of seven picks starting with the 17th overall selection.
Cleveland Browns
Last season: Bottom of the division with a 5-11 record, extending their play-off drought to a decade.
Coaching changes: A complete overhaul with owner Jimmy Haslam - whose purchase of the franchise from Randy Lerner was completed last October - putting his stamp on the organisation. General manager Ted Heckert and head coach Pat Shurmur were both sacked the day after the regular season ended. Rob Chudzinski was recruited from Carolina, where he was offensive co-ordinator for the last two years, to replace Shurmur and become the Browns' sixth permanent head coach since 1999. Mike Lombardi has joined the front office as vice president of player personnel to work under chief executive officer Joe Banner.
Unrestricted free agents: CB Sheldon Brown, WR Josh Cribbs, K Phil Dawson, LB Scott Fujita, P Reggie Hodges, RB Brandon Jackson, QB Josh Johnson, LB Kaluka Maiava, WR Mohamed Massaquoi, DE Juqua Parker, TE Alex Smith, S Raymond Ventrone, TE Benjamin Watson
Salary cap: $44.7m under
Strategy: There is plenty of cap space and few of their unrestricted free agents are expected to return. Kicker Phil Dawson, an ever present of the franchise's second coming in Cleveland, was an All-Pro last season and at 38 still has one of the best legs around. Dawson had the franchise tag applied to him in each of the last two years and to do so again would mean the Browns would have to pay him nearly $15 million. That won't happen. Quarterback Brandon Weeden, a first-round draft pick last year at the age of 28, struggled in his rookie season and the new regime will have to make a decision on whether he represents the future.
Draft: The Browns hold the sixth overall selection but then have to wait until the 68th pick before they are back on the clock. It will be interesting to see whether they use that early pick to rectify an area of specific weakness or are happy to take who they consider to be the best available player regardless of position.
*Salary cap figures from the NFL's official website