AFC West - Guide to the off-season
We take a look at how each team is preparing for the draft
By Graeme Mair
Last Updated: 07/03/13 6:17pm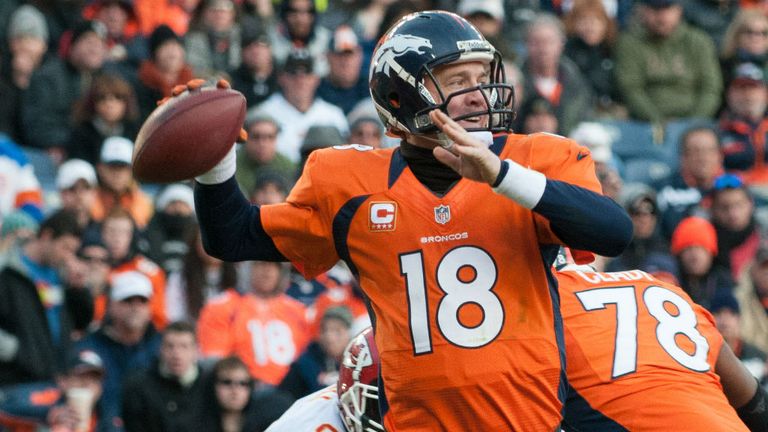 The draft takes place at Radio City Music Hall in New York from April 25-27 and prior to that there are lots of decisions to be made in front offices around the league.
Ahead of the draft, we're taking a division-by-division look at how things are shaping up, this time it's the turn of the AFC West.
Denver Broncos
Last season: Won division with a 13-3 record to earn top seed in the AFC but lost their play-off opener, 38-35 against eventual Super Bowl champions Baltimore.
Coaching changes: Adam Gase steps up as defensive co-ordinator after Mike McCoy left to become San Diego Chargers head coach.
Unrestricted free agents: DT Justin Bannan, LB Keith Brooking, S David Bruton, OL Ryan Clady, LB Jason Hunter, OL Dan Koppen, S Jim Leonhard, CB Tracy Porter, WR Brandon Stokley, DT Kevin Vickerson, DT Ty Warren, WR Matt Willis
Salary cap: $14.8m under
Strategy: Peyton Manning's first season in Denver saw him healthy and in vintage form but, at 36, the quarterback's window to win another Super Bowl is small and, with that in mind, an aggressive approach to free agency is likely. The Broncos have used their non-exclusive rights franchise tag on left tackle Ryan Clady, a move that gives Clady a $9.828 million, one-year contract tender. Several other linemen - on both sides of the ball - are unrestricted free agents and the Broncos may prefer to restock via the draft.
Draft: Denver's first-round pick is 28th overall. They only have six selections in total as their sixth-rounder went to Philadelphia as part of the trade that, briefly, brought Brodrick Bunkley to the club.
San Diego Chargers
Last season: Second in the division with a 7-9 record, their first losing season since 2003. Four straight defeats starting in week 10 ended their play-off chances.
Coaching changes: All change. General manager AJ Smith and head coach Norv Turner were both sacked the day after the regular season ended. Mike McCoy has been recruited from division rivals Denver - where he was defensive co-ordinator - as Turner's replacement and Tom Telesco takes charge of the front-office. Telesco had been with the Indianapolis Colts since 1995, rising to the position of vice president of football operations.
Unrestricted free agents: LB Antwan Barnes, RB Jackie Battle, RB Ronnie Brown, CB Chris Carr, CB Antoine Cason, OL Brandyn Dombrowski, DT Aubrayo Franklin, OL Tyronne Green, LB Gary Guyton, OL Rex Hadnot, CB Quentin Jammer, S Corey Lynch, DE Vaughn Martin, K Nick Novak, LB Shaun Phillips, TE Dante Rosario, WR Micheal Spurlock, OL Louis Vasquez, OL Reggie Wells, LB Demorrio Williams
Salary cap: $6.3m under
Strategy: Fixing the offensive line and secondary are the most pressing concerns for San Diego. Keeping quarterback Philip Rivers upright has become a major problem, he was sacked 49 times last season. With cornerbacks Antoine Cason, Quentin Jammer and saftey Corey Lynch all unrestricted free agents, the Chargers have the chance to build a fresh secondary around All-Pro safety Eric Weddle.
Draft: Still in possession of all seven picks, starting with the 11th overall.
Oakland Raiders
Last season: Third in the division at 4-12, making it a decade since they have had a winning record.
Coaching changes: Fired offensive co-ordinator Gregg Knapp and replaced him with Greg Olson, who spent last season as Jacksonville's quarterbacks coach.
Unrestricted free agents: OL Khalif Barnes, DT Desmond Bryant, OL Cooper Carlisle, DE Andre Carter, LB Omar Gaither, S Matt Giordano, RB Mike Goodson, WR Derek Hagan, CB Joselio Hanson, P Shane Lechler, QB Matt Leinart, S Mike Mitchell, TE Brandon Myers, DT Richard Seymour, DE Matt Shaughnessy, CB Shawntae Spencer, LB Philip Wheeler
Salary cap: $2.9m over
Strategy: The cap situation is improving but remains delicate. The squad is deficient in many areas but the receivers and cornerbacks need to be upgraded as a matter of urgency. Darren McFadden's struggles last season were probably the decisive factor in Knapp losing his job and Olson's most important task will be to devise a plan that allows McFadden to flourish once again, which probably starts with an overhaul of the offensive line.
Draft: The Raiders have the third overall selection and, assuming they don't trade it away before draft day, it will be the first time since 2010 that they have picked in the first round. A year ago they were not on the clock until the 95th selection at the end of the third round. That situation was due to the trade that brought Carson Palmer to Oakland from Cincinnati, a deal that also included their second-round pick this year.
Kansas City Chiefs
Last season: Bottom of the division at 2-14, the equal-worst record in the NFL, but those struggles were put in perspective by off-field events. Linebacker Jovan Belcher shot dead his girlfriend Kasandra Perkins and then drove to the team's practice facility near Arrowhead Stadium and turned the gun on himself in front of general manager Scott Pioli, head coach Romeo Crennel and linebackers coach Gary Gibbs.
Coaching changes: Pioli and Crennel were sacked the day after the regular season ended. Andy Reid, let go by Philadelphia on the same day after 14 seasons at the helm, replaced Crennel on a five-year contract and is reunited with new general manager John Dorsey, who he previously worked alongside in Green Bay in the mid-90s.
Unrestricted free agents: OL Branden Albert, TE Kevin Boss, WR Dwayne Bowe, WR Steve Breaston, P Dustin Colquitt, CB Travis Daniels, DE Glenn Dorsey, S Abram Elam, OL Thomas Gafford, RB Peyton Hillis, OL Russ Hochstein, TE Edgar Jones, OL Ryan Lilja, TE Jake O'Connell, DT Ropati Pitoitua, QB Brady Quinn, LB Brandon Siler, DT Shaun Smith, LB Leon Williams
Salary cap: £13.2m under
Strategy: The Chiefs started rebuilding by trading two draft picks, including a second-rounder this year, for San Francisco quarterback Alex Smith. That means Matt Cassel - the starter for much of the last four seasons - is surplus to requirements and leaves them free to use the first overall selection in the draft to address another of their weaknesses. The alternative is to trade down for extra value if none of the available options takes their fancy. Wide receiver Dwayne Bowe has been given a new five-year contract to prevent him hitting free agency, while left tackle Branden Albert will be back - for one more season at least - after Kansas City used their non-exclusive rights franchise tag on him. Albert's return makes it less likely the top pick of the draft will be used on on an offensive lineman such as Texas A&M left tackle Luke Joeckel or Central Michigan's Eric Fisher.
Draft: A full house of seven picks starts with the first overall selection.
*Salary cap figures from the NFL's official website