NFC West - Guide to the off-season
We take a look at how each team is preparing for the draft
By Graeme Mair
Last Updated: 23/03/13 3:56pm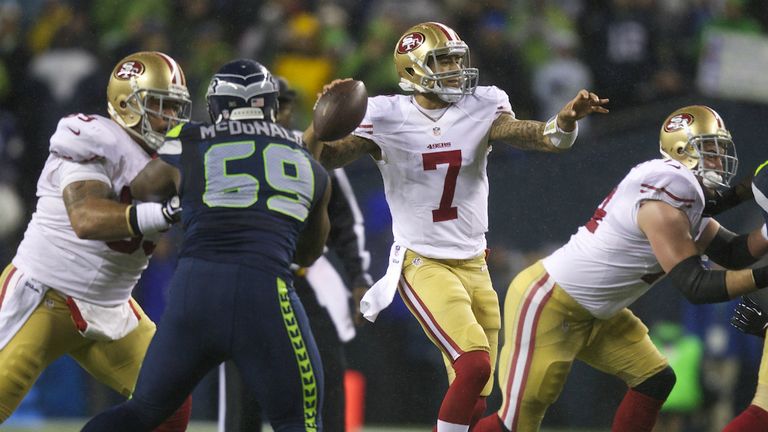 The draft takes place at Radio City Music Hall in New York from April 25-27 and prior to that there are lots of decisions to be made in front offices around the league.
Ahead of the draft, we're taking a division-by-division look at how things are shaping up, this time it's the turn of the NFC West.
San Francisco 49ers
Last season: Won division title for second year in row with 11-4-1 record and went one better than last season, advancing to the Super Bowl where they lost to Baltimore Ravens.
Coaching changes: Jim Harbaugh will return for his third season as head coach with his entire staff remaining intact.
Strategy: Colin Kaepernick's emergence at quarterback meant Alex Smith was surplus to requirements and San Francisco acted quickly in trading the former first overall selection to Kansas City Chiefs in exchange for a second-round pick this year and a conditional pick in 2014. Kaepernick developed an excellent relationship with wide receiver Michael Crabtree but, with Randy Moss unlikely to return and Mario Manningham coming off knee surgery, the need for further depth at wide receiver was clear. To that end, the Niners sent a sixth-round selection to the Ravens for Anquan Boldin, a superb piece of business. They have also signed up safety Craig Dahl and defensive end Glenn Dorsey via free agency. Dahl - who struggled at times in St Louis last season - is a direct replacement for Dashon Goldson, who has gone to Tampa Bay, while Dorsey is tasked with providing some pass rush support to the Smiths - Justin and Aldon. Kicker David Akers paid the price for a season in which he missed more field goals than anyone else. Veteran Phil Dawson, just a month younger than Akers, has been signed as his replacement.
Draft: They hold 11 picks, more than any other team. That haul includes two in the third and fifth round and three in the seventh.
Seattle Seahawks
Last season: Second in the division with an 11-5 record to earn a play-off wildcard. Won their post-season opener at Washington before going down 30-28 on the road at Atlanta in the divisional round.
Coaching changes: Dan Quinn is new defensive co-ordinator after Gus Bradley left to become Jacksonville's head coach. Quinn spent the last two years as defensive co-ordinator at the University of Florida and is returning for a second spell in Seattle where he was defensive line coach under Bradley in 2009 and 2010.
Strategy: Seattle made an aggressive start to free agency, sending their first-round pick - 25th overall - in this year's draft to Minnesota Vikings in exchange for wide receiver Percy Harvin. The deal also includes one of the Seahawks' seventh-round selections and a mid-rounder next year, a hefty price to pay for a player who for all his speed has yet to have a 1,000-yard receiving season in four years in the NFL. With Chris Clemons coming off ACL surgery, the Seahawks have added depth to their pass rush with the signings of free agents Cliff Avril and Michael Bennett. The other area in need of an upgrade is the offensive line's pass protection, in particular at right tackle where Breno Giacomini was a weak point last season.
Draft: Eight picks in total but will not be on the clock until the second round, 56th overall. They have two selections in the fifth and seventh rounds.
St Louis Rams
Last season: Third in the division with a 7-8-1 record in head coach Jeff Fisher's first year in charge.
Coaching changes: Gregg Williams' suspension for his involvement in the New Orleans bounty scandal meant the defensive co-ordinator position was handled collectively last season. Fisher has hired Tim Walton from Detroit, where he coached the secondary under Fisher protege Jim Schwartz, to fill the role next season. Dick Jauron, Rob Ryan and Mike Singletary were all interviewed before Walton was hired.
Strategy: The Rams' biggest move so far has been the signing of free agent left tackle Jake Long. The former first overall pick has signed a four-year deal to become Sam Bradford's blindside protector. Quarterback Bradford has been sacked 105 times in three seasons and Long's arrival should help him stay upright and healthy. Jared Cook, a talented but inconsistent tight end, is the other major arrival via free agency from Tennessee. St Louis will be looking for offensive playmakers in the draft after running back Steve Jackson and wide receiver Danny Amendola departed as free agents for Atlanta Falcons and New England Patriots respectively.
Draft: St Louis continue to reap the rewards of the deal that saw Washington move up to take Robert Griffin III second overall last year. The Rams are the only team who pick twice in the first round - at 16 and 22 - and thereafter have one selection in each round.
Arizona Cardinals
Last season: Turned a 4-0 start into a final 5-11 record to finish bottom of the division. Four different quarterbacks were tried to limited effect in the league's worst offence.
Coaching changes: Complete overhaul with head coach Ken Whisenhunt and general manager Rod Graves sacked the day after the regular-season ended. Bruce Arians has been brought in from Indianapolis to replace Whisenhunt. Arians, 60, impressed as the Colts' interim head coach last season while Chuck Pagano was on a leave of absence to have leukaemia treatment and has plenty of experience having started his coaching career in 1975. Steve Keim, who has spent 14 years with the Cardinals starting as a regional scout, has been promoted to general manager. Ray Horton, defensive co-ordinator last season, left for the same role in Cleveland after being overlooked for promotion to head coaching vacancy.
Strategy: The need for a new quarterback in Arizona became obvious last season and the decision to cut Kevin Kolb paves the way for a fresh start at the position. The Cardinals hold the seventh overall selection in the draft and Jacksonville are the only team ahead of them who will be considering a quarterback. West Virginia's Geno Smith is regarded as the top signal caller coming out of college this year, while USC's Matt Barkley would certainly be available at seven. But they can probably get more value by taking an offensive lineman in the first round, another area badly in need of upgrading. Rashard Mendenhall has been brought in to replace Beanie Wells at running back, although the Cardinals should also look to add a young rusher later in the draft. There will be changes in the secondary as cornerback Greg Toler and safeties Adrian Wilson and Kerry Rhodes have all left. Antoine Cason and Jerraud Powers have been signed via free agency in an effort to find a cornerback to play opposite Patrick Peterson, while veteran safety Yeremiah Bell has joined after a spending last season with the Jets.
Draft: Arizona will pick seventh overall, the first of seven selections in total, which includes two in the sixth round and none in the seventh.